Beneficial land uses are compatible land uses which provide benefits or services to wastewater treatment plants as well as to the broader community.
Benefits of beneficial land use may include:
productively using outputs such as recycled water, nutrients, biosolids and/or biogas
generating inputs including renewable energy and knowledge, such as research
providing carbon and biodiversity offsets
buffering to odour sensitive land uses
Wastewater treatment plants are now becoming viewed as water resource recovery plants and are increasingly producing recycled water, nutrients, biosolids and biogas which can be utilised in plant operations or for a wide range of beneficial land uses such as, recreational grounds, urban forests and corridors, horticulture and industry. This can deliver significant savings in water, energy and waste disposal costs to communities while making our cities and towns more sustainable and liveable.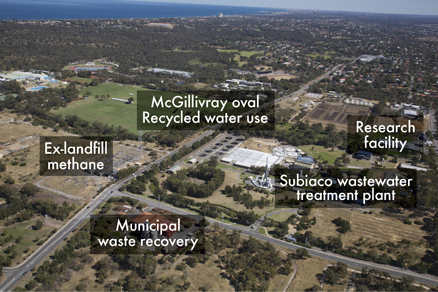 To find out more download our matrix of beneficial land uses for wastewater treatment plant buffers, which lists land uses and details their outputs and inputs
The establishment of strategic resource precincts around wastewater treatment plants is a recognised objective of the West Australian Planning Commission's State Planning Strategy.
To find out more about opportunities for establishing strategic resource areas around your communities wastewater treatment plant, contact the Land Planning section on land.planning@watercorporation.com.au