Balannup wastewater pipeline
Project goal:
We are upgrading wastewater infrastructure to accommodate population growth.
Status:
Complete
Delivery Date:
Complete
What's happening?
We have constructed a below-ground wastewater pipeline and upgraded an existing pump station in the City of Armadale to cater for population growth. The infrastructure will provide services to the Balannup sewer area which includes the suburbs of Piara Waters, Harrisdale and Southern River.
When is this happening?
Construction began in late March 2019 and was completed in late 2019.

Our authorised contractor, Georgiou, completed this work on our behalf.

Where is this happening?

The pipeline started at Collared Street pump station in Harrisdale and continued on Keane and Hanlin Road to Waterworks Road pump station in Haynes.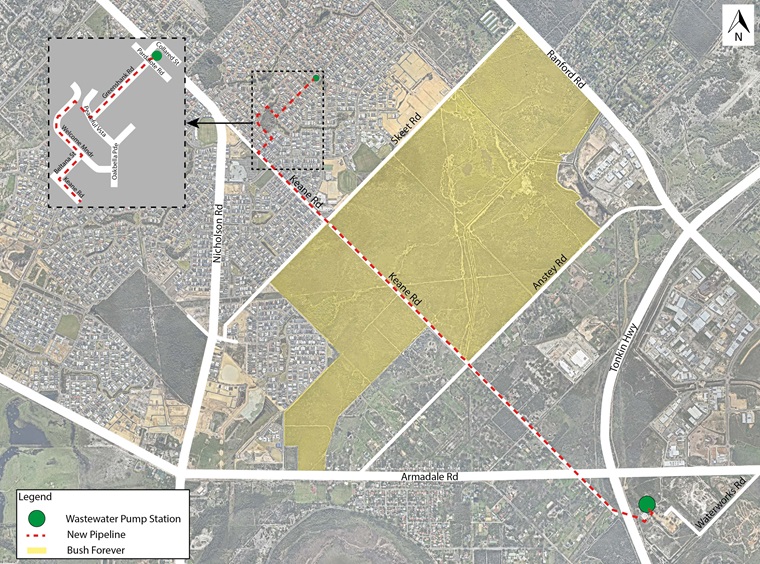 In October 2014 we referred the Balannup Wastewater Pressure Main project to the Environmental Protection Authority (EPA). At this time the EPA requested more information to enable them to set a level of assessment for the project. This was provided and the EPA re-advertised the proposal on in March 2016 for a further public comment period.
In May 2016 the EPA announced it will formally assess our proposal and that the assessment is warranted at the level of an Assessment on Proponent Information: Category A (API: A). You can
read the EPA's statement
, or see
the EPA's determination
via their website.
On January 23, 2017, the Environmental Protection Authority announced its recommended approval for the relevant project. To review the EPA relevant report please visit the
EPA website
.
On October 3, 2017, the Minister for Environment gave environmental approval relevant for the proposal. For more information, read the
Ministerial Statement
.
Environmental plans & reports
Please note that due to the large size of some of the following documents, copies are available on request by contacting our Community Engagement team via email community.engagement@watercorporation.com.au.
Contact us
Construction related enquiries
David Bradley, Georgiou Project Manager
0447 805 001

General enquiries and feedback
Lara Fox, Advisor Community Engagement
(08) 9420 2985
community.engagement@watercorporation.com.au