Bullsbrook to Ellenbrook Pipeline
Project goal:
Improve wastewater infrastructure in the City of Swan.
Status:
Soon to be in construction
Delivery Date:
June 2022 - late 2023
What's happening?
We are proposing to construct new wastewater infrastructure to help cater for the continued growth in the City of Swan.
This new infrastructure includes;
A new 18km wastewater pipeline
A new transfer pump station
Upgrades to an existing pump station
Once complete this new infrastructure will allow us to safely divert wastewater away from the existing Bullsbrook Water Resource Recovery Facility (WRRF), which is currently at capacity, to one of our larger plants at Beenyup.


Where is this happening?
The new pipeline will run from the Water Corporation pump station on North Avenue in Bullsbrook to the pump station on Millhouse Road in Ellenbrook. The below map provides further details.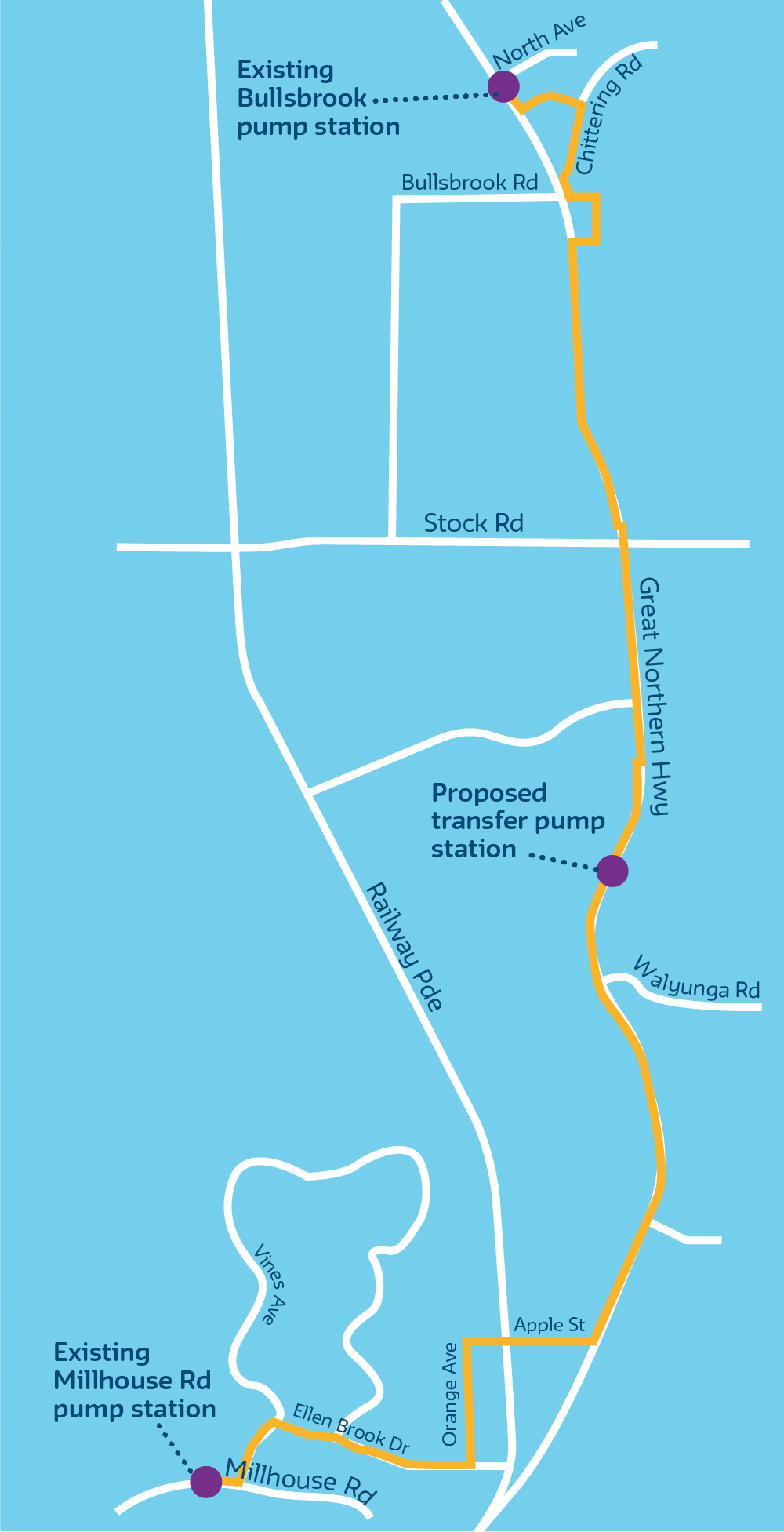 Why is this taking place?
As the community grows so does the amount of wastewater that we need to treat. This new pipeline will help us to ease pressure on the existing Bullsbrook WRRF and safely divert the increasing flows to Beenyup WRRF, one of the largest WRRF's in the state.
When is this taking place?
Construction for majority of the pipeline is scheduled to start in June 2022 and will take around 18 months to complete the work entirely.
How will this impact the community?
As with any construction activities there will be an increase in noise, dust and activity in the area. There will also be temporary impacts to roads, verges and pedestrian paths.
We follow a thorough reinstatement process to ensure all impacted areas are replaced like for like, where practically possible. We work closely with the City of Swan and residents to ensure all reinstatements are carried out to an acceptable and high standard.
Property access and traffic management
We will aim to maintain access to properties at all times. If access is temporarily unavailable due to construction or safety reasons, our contractor DM Civil will work with you in advance on alternative arrangements.
Traffic management will be in place throughout the work to ensure the safety of road users and the community.
Project Updates
May 2022
Bullsbrook North
Construction of the pipeline will begin in Bullsbrook, installation of the pipeline will be on the southern side of Caporn Street and western side of Chittering Road.
Caporn Street will be closed at times, but local traffic will be able to access their properties and driveways throughout the construction. Chittering Road will remain open and reduced to single lane in some areas.
We expect to be constructing through the Bullsbrook area from June - October 2022. The majority of the work will be completed Monday to Friday between 7am and 5pm. However there may be some weekend and evening work - in the case of we will adhere to noise management requirements approved by the City of Swan.
Map area of work - Bullsbrook North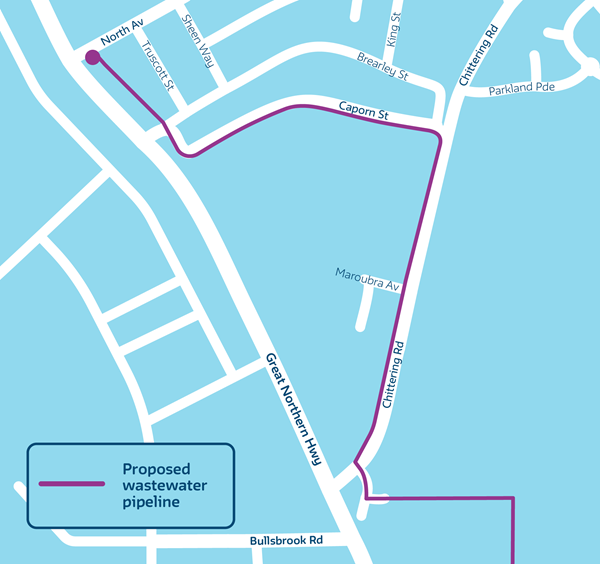 Contact Us
Carley Robbins - Community Engagement Advisor
(08) 9420 3020
carley.robbins@watercorporation.com.au