Clarkson wastewater pipeline
Project goal:
Construct a new wastewater pipeline in Clarkson and Neerabup to extend the wastewater network in the northern corridor of metropolitan Perth.
Status:
Soon to begin construction
Delivery Date:
Construction commences: February 2022
Completion: early 2023
What's happening?
To cater for growth and the disposal of wastewater flows in the northern corridor of metropolitan Perth, Water Corporation will construct the following work in Clarkson and Neerabup:
Installation of 2kms of new wastewater pipeline 2.2 metres in diameter
Installation of eight shafts and access chambers
Please visit our project's engagement page for all the latest updates.

Where is this work happening?
This work will take place at the intersection of Connolly Drive and Walyunga Boulevard, through the Clarkson TAFE car park, towards Harmony Avenue, south along Hannaford Avenue, across Homestead Park, east along La Mirada Avenue, under the Mitchell Freeway and east along Hall Road in Neerabup.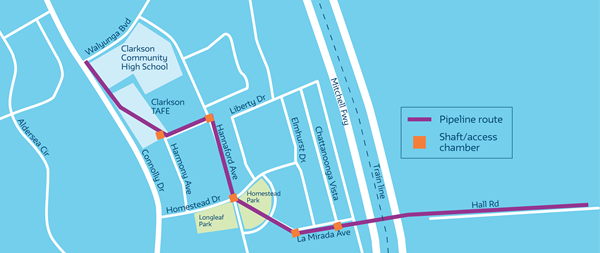 Once complete, the pipeline will play a vital role in transferring wastewater flows from multiple wastewater pump stations to the Alkimos Wastewater Treatment Plant.
How will this impact me?
Noise
Along Connolly Drive, construction work will be done by an open trench method. However, due to the size and depth of the pipeline, for all other roads, we will use a micro tunnelling drill head to install the pipe. The drill head is able to simultaneously dig and remove the soil, while installing the pipe. This construction method means that noise impacts will be reduced, however work at the shafts will be required. At these shafts, work involves road cutting, excavating, installation of a support system and compacting. Unfortunately, this work can be noisy and a little dusty, but noise will be kept to a minimum and we are committed to working with residents to minimise impacts.
Traffic
There will be road closures and traffic detours in place for lengthy periods of time. Rob Carr will have a traffic management plan in place. We will work closely with residents and endeavour to maintain full access to properties. For more information on road closures, please visit our project's engagement page for all the latest updates.
Environment
Neerabup National Park near Hall Road will be minimally impacted during this work. Some trees on the eastern side of Connolly Drive and within Homestead Park may need to be removed to install the new wastewater pipeline. We will work with the City of Wanneroo to replace the trees after construction work is complete.
Some bush clearing along Hall Road will be required to install the new wastewater pipeline. A rehabilitation plan has been agreed with the Department of Biodiversity Conservation and Attractions to rehabilitate and maintain the area after construction work is complete.
Project timeline
2017: Commenced early investigation works for pre-design and started working closely with project key stakeholders including the City of Wanneroo.
2018: Completed draft design and started the formal approvals processes including in consultation with Department of Water and Environmental Regulations.

2019: Impacted customers had the opportunity to provide comment on the project. The public comment period was open from 20 March to 12 April 2019. See the notice of proposal document on this page for more information.

2021: Contract has been awarded to Rob Carr and preliminary work is in progress. The project design is currently being finalised.
Construction will start in February 2022 and is expected to take about 14 months to complete.
Who can I contact?
For more information, please contact Community Engagement Senior Advisor, Amy Wright at amy.wright@watercorporation.com.au or on (08) 9420 2130 during office hours.
Contact us
Amy Wright - Community Engagement Senior Advisor
9420 2130
amy.wright@watercorporation.com.au
Related documents