Clarkson wastewater pipeline
Project goal:
Construct a new wastewater pipeline in Clarkson and Neerabup to extend the wastewater network in the northern corridor of metropolitan Perth.
Status:
In progress
Delivery date:
Construction commenced: February 2022, expected completion: November 2023
Latest updates
November 2023
Water Corporation authorised contractor Rob Carr has constructed 1.9 kilometres of wastewater pipeline in your area. This work has taken place in sections along Connolly Drive, Hannaford Avenue, Harmony Avenue, Homestead Drive, La Mirada Avenue and Hall Road.
The project team have finished all construction and reinstatements throughout the community.
The project team have completed all construction in Neerabup National Park and are working on reinstatements. Revegetation of the National Park will take place in collaboration with Department of Biodiversity, Conservation and Attractions, throughout the Autumn months of 2024.
Thank you for you patience and understanding over the last two years as we have carried out this essential work.
Have a question?
We have a great project team on the ground, including Adam Shanley, Project Supervisor for Rob Carr.
Adam is available Monday to Friday, from 8am and 4pm to answer your project questions or concerns. He can be reached on 0488 174 689 or adam.shanley@robcarr.com.au
Thank you for your patience as we continue to work in your area.
Project overview
To cater for growth and the disposal of wastewater flows in the northern corridor of metropolitan Perth, we are undertaking the following work in Clarkson and Neerabup:
Installation of 2kms of new wastewater pipeline, 2.2 metres in diameter
Installation of eight shafts and access chambers
This work is taking place at the intersection of Connolly Drive and Walyunga Boulevard, through the Clarkson TAFE car park, towards Harmony Avenue, south along Hannaford Avenue, across Homestead Park, east along La Mirada Avenue, under the Mitchell Freeway and east along Hall Road in Neerabup.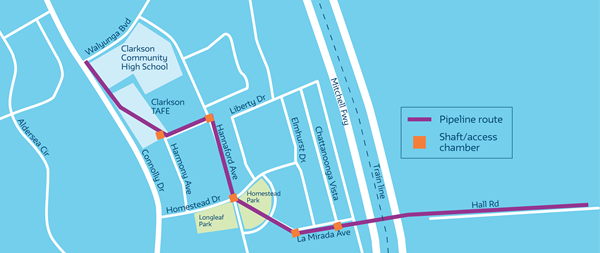 Once complete, the pipeline will play a vital role in transferring wastewater flows from multiple wastewater pump stations to the Alkimos Wastewater Treatment Plant.
Environment
Neerabup National Park near Hall Road will be minimally impacted during this work. Some trees on the eastern side of Connolly Drive and within Homestead Park may need to be removed to install the new wastewater pipeline. We will work with the City of Wanneroo to replace the trees after construction work is complete.
Some bush clearing along Hall Road will be required to install the new wastewater pipeline. A rehabilitation plan has been agreed with the Department of Biodiversity Conservation and Attractions to rehabilitate and maintain the area after construction work is complete.
Reinstatement
Reinstatement of the bus stop, footpath and kerbing is underway along Connolly Drive.
Once work is complete at the roundabout, reinstatement will be done with black asphalt, as agreed with the City of Wanneroo.
Who can I contact?
For more information, please contact Community Engagement Senior Advisor, Gabrielle Migliore at gabrielle.migliore@watercorporation.com.au or on 0417 164 248 during office hours.
Contact us
Amy Wright - Community Engagement Senior Advisor
9420 2130
amy.wright@watercorporation.com.au