Dedari water storage tank
Project goal:
Construct a new 32 million litre capacity water storage tank in Wallaroo.
Status:
In construction
Delivery Date:
December 2020 - Spring 2022
What's happening?
To improve the water quality and provide a more secure water supply for customers in the Shire of Coolgardie and City of Kalgoorlie Boulder, we are constructing a new 32 million litre water storage tank adjacent to the old Dedari Pump Station site in Wallaroo.
The work includes converting the existing reservoir to an overflow area for the new tank and construction of pipework connecting to the new tank.
The proposed work is located in the suburb of Wallaroo as shown on the Notice of Proposal.
When is this happening?
The proposed work will commence in January 2021.
We will keep the community informed of specific construction details as required.
Project update - February 2022
The tank walls and roof planks have been erected.

In early 2022 works will include, concrete pour for the tank's roof slab, tank's access stairs installation, electrical works, site drainage, asphalting of the tank's access track, fencing and construction of the tank's above ground pipework.

Commissioning of the new tank is expected to begin in mid-2022.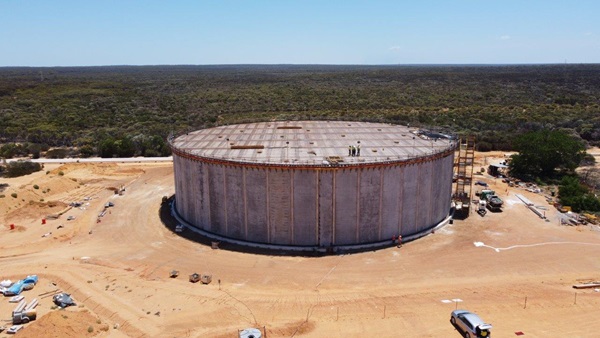 Contact Us
If you would like more information on the project, please contact Advisor– Community Engagement, Gemma Bertrand, via Gemma.Bertrand@watercorporation.com.au or phone 9420 2895.