Greenbushes to Kirup pipeline
Project goal:
Securing the water supply to Kirup, Mullalyup and Balingup by connecting these towns to the Warren Blackwood Regional Water Supply Scheme
Status:
Construction commencing soon
Delivery Date:
January 2021 - Late 2021
What's happening?
In order to secure the water supply to Kirup, Mullalyup and Balingup, Water Corporation will be laying approximately 17km of pipe between Mullalyup and North Greenbushes.

We will also be installing new assets at our sites in Mullalyup, Balingup and Kirup, and decommissioning existing assets along the route.
Where is this happening?
Construction will occur from the North Greenbushes summit tank site to Mullalyup.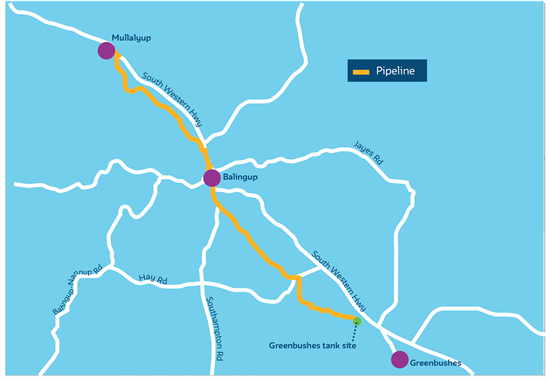 Why is this taking place?
This project will connect these towns to an integrated water supply scheme and provide reliable and high quality water to residents in these areas.

This project will see an end to the water carting arrangements currently in place for Kirup and Mullalyup.
When is this taking place?
We have recently appointed Valmec as head contractor.

Work will commence in January 2021. More information will be provided to customers in the area as we approach the start date.

Updates will be available on this webpage.
How will this impact the community?
Construction disruption
Local residents and businesses along the pipeline route may notice some noise, dust and activity at the construction sites. Residents may also notice increased traffic in nearby streets.
There may be traffic management in place near our sites in Balingup, however residents and the community will be notified ahead of time.
Temporary Water Disruption
As part of the work, there may be temporary water supply disruptions to allow for the construction work to progress. Affected residents will be notified at least 48 hours before any disruption to supply.
We thank local residents for their patience and cooperation while this necessary work is carried out.
Contact us
Jen Woollard, Community Engagement Officer
(08) 9420 2651
jen.woollard@watercorporation.com.au