Greenbushes to Kirup pipeline
Project goal:
Securing the water supply to Kirup, Mullalyup and Balingup by connecting these towns to the Warren Blackwood Regional Water Supply Scheme
Status:
In construction
Delivery Date:
January 2021 - Mid 2021
What's happening?
In order to secure the water supply to Kirup, Mullalyup and Balingup, Water Corporation will be laying approximately 17km of pipe between Mullalyup and North Greenbushes.

We will also be installing new assets at our sites in Mullalyup, Balingup and Kirup, and decommissioning existing assets along the route.
Where is this happening?
Construction will occur from the North Greenbushes summit tank site to Mullalyup.
We are using existing access tracks and fire breaks that have already been cleared, to minimise our environmental footprint wherever possible.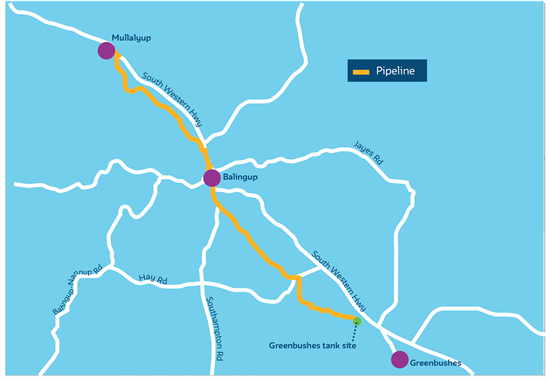 Why is this taking place?
This project will connect these towns to an integrated water supply scheme and provide reliable and high quality water to residents in these areas.

This project will see an end to the water carting arrangements currently in place for Kirup and Mullalyup.
When is this taking place?
Work on the pipeline has commenced. Valmec, our appointed contractor, will be on-site from now until mid-year.

More information will be provided to customers in the area as work progresses.

Updates will be available on this webpage.
How will this impact the community?
Construction disruption
Local residents and businesses along the pipeline route may notice some noise, dust and activity at the construction sites. Residents may also notice increased traffic in nearby streets.
There may be traffic management in place near our sites in Balingup, however residents and the community will be notified ahead of time.
Temporary Water Disruption
As part of the work, there may be temporary water supply disruptions to allow for the construction work to progress. Affected residents will be notified at least 48 hours before any disruption to supply.
We thank local residents for their patience and cooperation while this necessary work is carried out.
Project progress - May update
Our approved contractor Valmec have started work on the new Greenbushes to Kirup pipeline.
Updates will be provide on the construction progress here.
Construction within Balingup
As part of the pipeline installation we will be constructing along South Western Highway in Balingup - as well as Forrest and Saunders Streets.

The construction within Balingup town has now been scheduled to commence the week of 17 May 2021. All approvals have been granted and construction will take approximately four weeks. As we are open trenching through town,progress of the work will be weather reliant. There may be days of wet weather where work crews are unable to continue but, these will be managed with local residents and business owners as required.
The map below shows the exact location of the construction that will take place.
Work along South Western Highway will be within the car bays allowing for continued car and pedestrian access to businesses. This work is expected to take around two weeks to complete and will be completed in stages. As work is completed in one section of approximately 20 metres, temporary backfill will be applied and the bays opened. The next work section will then be started. Once all work is completed the final reinstatement will take place. We have committed to reinstate the area to the same (or better) condition.
While we are working in the car bays to enable pedestrian access and continues vehicle movements, there will be stop/go traffic management in place directly adjacent to the work front. We are aware that this decisions may be unpopular as there are already extensive areas of traffic management on the road - we have taken this decision to ensure the safety of drivers, pedestrians and our crew.
Work will take place within the bus stop along South Western Highway - bus companies will be informed to ensure operations continue smoothly and a temporary stop will be created just to the north of the existing one. There will be no disruption to the school bus service operating for Donnybrook. Directions and assistance can be provided by any of the crew onsite.
We have planned this work to minimise impacts to residents and businesses in town. We have committed to not work during school holidays or during local festivals. We will continue to work closely with the Shire of Donnybrook-Balingup to ensure satisfactory outcomes for the community.
Parking for the shops (including Chemist, Fruit Winery and Cafe) will be available via Brockman Street, or street parking along Forrest Street is available. We encourage you to continue supporting local businesses by visiting during this period.
Once work along South Western Highway has been completed we will then move along Forrest Street, Saunders Street and Jayes Road. Work will continue to be completed in sections. If the work is due to impact access to your property we will be in contact with at least 48 hours notice. We are able to assist with any access requirements if given notice - please contact us using details on the right of this page.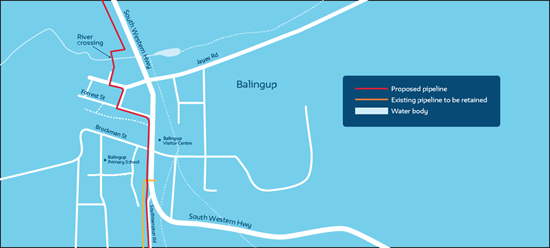 Greenbushes Loop and Bibbulmun Track
To minimise construction impacts on the local environment, we have designed the pipeline to be within a number of tracks, firebreaks and road reserves. These areas are already cleared of trees and ensure ongoing access for operational requirements.

Part of the work we are completing will be within the Greenbushes Loop trail and along the Bibbulmun Track.

During this time, alternative pathways will be provided to ensure there is no disruptions to hikers. Please follow the signs or speak to a member of our crew.

Please maintain an appropriate distance away from any machinery or construction for your safety.

The map below shows where we will be impacting the Greenbushes Loop.

Visitors are encouraged to check the TrailsWA Webpage prior to starting.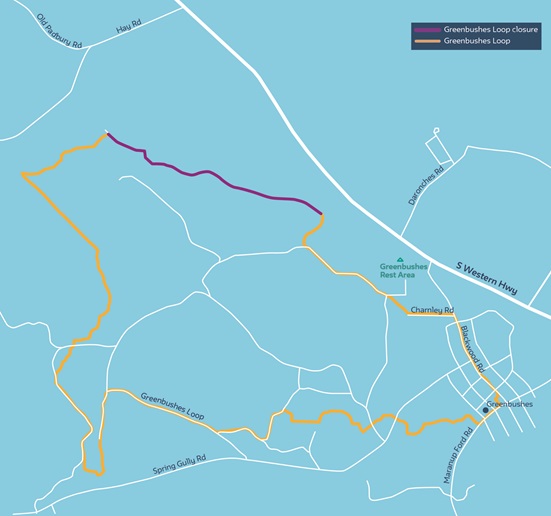 Contact us
Jen Woollard, Community Engagement Officer
(08) 9420 2651
jen.woollard@watercorporation.com.au