Greenbushes to Kirup pipeline
Project goal:
Securing the water supply to Kirup, Mullalyup and Balingup by connecting these towns to the Warren Blackwood Regional Water Supply Scheme
Status:
Completed
Delivery Date:
January 2021 - April 2022
What happened?
In order to secure the water supply to Kirup, Mullalyup and Balingup, Water Corporation installed 17km of pipe between Mullalyup and North Greenbushes.

New assets were also installed at our sites in Mullalyup, Balingup and Kirup, and existing assets along the route were decommissioned.
Where did this happen?
Construction occured from the North Greenbushes summit tank site to Mullalyup.
Existing access tracks and fire breaks that have already been cleared were utilised to minimise our environmental footprint wherever possible.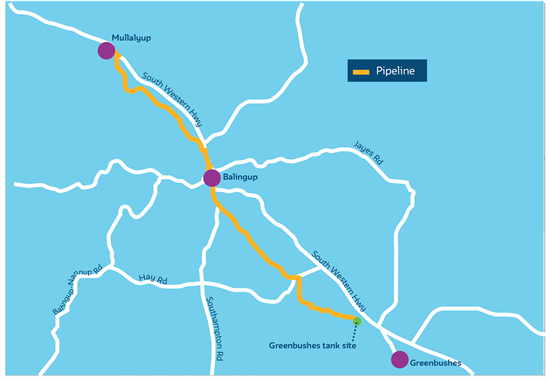 Why did this take place?
This project connected these towns to an integrated water supply scheme which will provide reliable and high quality water to residents in these areas.

This will see an end to the water carting arrangements for Kirup and Mullalyup.
Contact us
Kristy Lind - Community Engagement Specialist
(08) 9420 2570 (business hours)
kristy.lind@watercorporation.com.au