Johnston Street water main renewal
Project goal:
Renewing water pipes along Johnston Street, Peppermint Grove to improve the security and reliability of the water supply for decades to come.
Status:
In construction
What's happening?
DM Civil have now completed pipe renewal work along Johnston Street from Harburn Mews to Bay View Terrace to improve the security and reliability of Peppermint Grove's water supply.
DM Civil will return to Johnston street to continue the connection of the new pipe to the existing network underneath Stirling Highway to the west.
Where is this happening?
Johnston Street from Harburn Mews to Bay View Terrace, under Stirling Highway and the road reserve to the west where the connection will be made.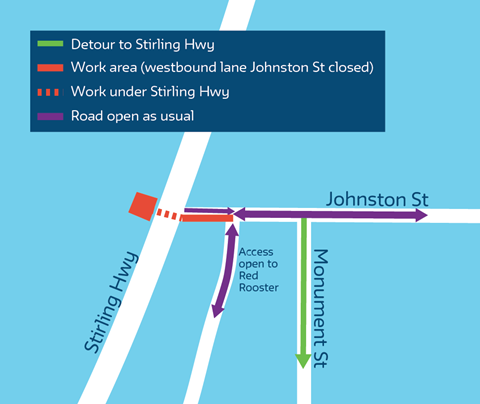 When is this happening?
Construction work is planned to begin on Wednesday 13 May 2020 and is expected to take 6 weeks to complete. Investigations on site will begin on Tuesday 12 May 2020.
Work will be completed between 7am and 7pm on weekdays, and Saturdays if required.
Night work will be required to make the final connection to the existing network to the west of Stirling Highway. Residents and businesses will be notified in advance of any night work occurring.
How will this impact the community?
The westbound lane of Johnston Street will be closed from Harburn Mews to Stirling Highway. Acccess to Red Rooster from Johnston Street through Harburn Mews will be open to traffic from both directions. The eastbound lane from Stirling Highway to the river will remain open throughout construction.
Traffic management will be in place to assist drivers with detours from Johnston Street to Stirling Highway via Monument Street.
Construction work can be noisy and dusty. Aspects of construction including cutting into the road and compacting earth will cause noise and vibration.
It is unlikely that there will be an interruption to your water supply during this project. If for any reason this changes, you will be notified at least 48 hours prior to this occurring.
Our construction methods mean unavoidable impact to the road, kerb and verges. All areas impacted by the work will be returned to as close to their original condition as reasonably feasible.
We understand and appreciate that this work may cause temporary inconveniences. We will do what we can to minimise impact and complete the work as quickly as possible.