Karratha water service upgrade
Project goal:
We're continuing with our staged project to replace water service connections to customers in a number of Karratha suburbs to improve the reliability of this infrastructure. Stage 1 in Nickol was successfully completed last year, Stage 2 has commenced in Baynton and Stage 3 in Pegs Creek will commence in March.
Status:
In construction
Delivery Date:
Stage 1: October 2020 to April 2021 (Nickol)
Stage 2: October 2021 to January 2022 (Baynton)
Stage 3: March - April 2022 (Pegs Creek)
Future stages: Planned works in the suburbs of Bulgarra, Millars Well and the light industrial area will be programmed later in 2022.
Where is it happening?
In Stage 3, residents in Pegs Creek will benefit from the following upgrades.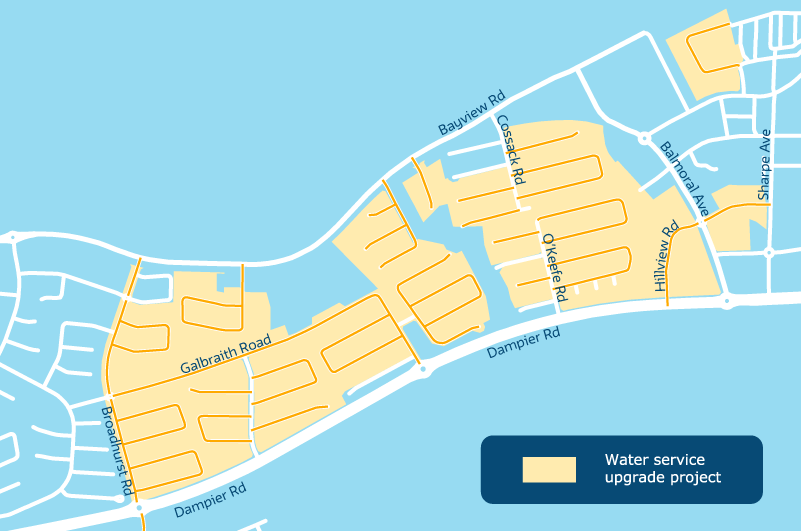 When is it happening?
Work for Stage 3 will commence in March with an aim to be completed by April 2022. During this period, working hours will be Monday to Sunday between 6am and 6pm. Shutdowns are scheduled for weekdays to minimise the impact to our customers on the weekend. Customers will be notified when a planned shutdown is set to occur.

Future stages will be programmed on a rolling schedule, with customers notified in advance about the location and timing of the works.
Why is this work important?
The upgrade involves replacing the water pipe between a customer's water meter and the supply main running down the street. Replacing these water service connections is essential to improve the water supply infrastructure, and to reduce the number of unplanned supply interruptions, caused by leaks and bursts.
What are the impacts?
For Stage 3, residents in Pegs Creek may notice more activity in the area, including noise from vehicles and machinery. The project will involve verge and footpath works in order to replace the infrastructure. We will work closely with residents throughout the duration of the project to minimise the inconvenience to the local community wherever possible.
Where required, traffic management will be in place to direct people safely around the work area.
On site issues or project information
For more information regarding the project, please contact Liah Withnell, Water Corporation Project Manager at liah.withnell@watercorporation.com.au or on 9186 8242.