Mundijong water supply improvements
Project goal:
To construct a new water pipeline and improve the reliability of water supplied in Mundijong.
Status:
Soon to be in delivery
Delivery Date:
Mid 2021
What's happening?
We are planning to construct a water pipeline on Paterson Street, Mundijong. The proposed pipeline will be installed underground and construction by open trench excavation.
Where is this happening?
The work will be taking place along Paterson Street in Mundijong, from Keirnan Street to Mundijong Road.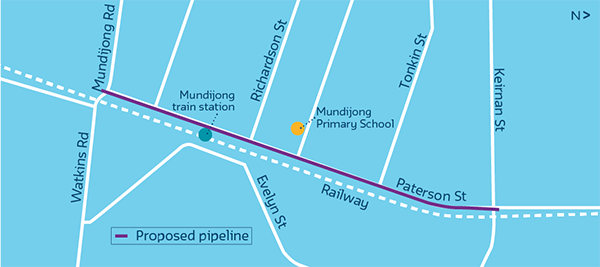 Why is this taking place?
The construction of the pipeline is to improve the reliability of the water supply.
When is this taking place?
We anticipate construction to commence in early 2021 and will take approximately six months to deliver.
How will this impact the community?
Unfortunately, construction of a pipeline can be noisy and dusty. We will do our best to reduce any impacts on the local community.
Traffic conditions will be impacted, as we will need to reduce two lanes of traffic down to one in areas directly around construction. While we will minimise any inconvenience as much as possible, delays can be expected.
Who can I contact?
For more information please contact the Project Manager, Nathan Gowda, on (08) 9420 3126 during office hours.