Project goal:
We are refurbishing ageing wastewater pipes in the shire of Northam to extend the life of this important infrastructure by at least 50 years.
Delivery Date:
December 2019 to August 2020
What's happening?
As part of our ongoing sewer relining project, we're currently refurbishing ageing wastewater pipes in Northam. This work is being undertaken by our authorised contractor, Interflow.
Where is this happening?
We will be working throughout the town of Northam. Please reference the below map for specific work areas.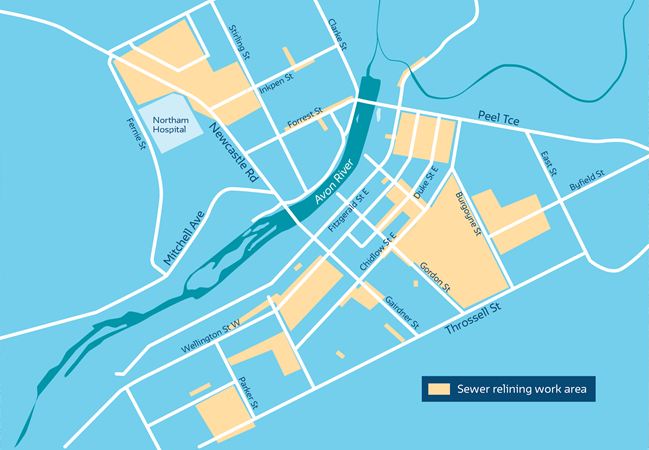 Why is this work taking place?
Relining wastewater pipes is an important process to protect our wastewater systems and the health of the community and environment. This work will reduce the likelihood of blockages, prevent corrosion and extend the life of this important infrastructure by at least 50 years.


When is this happening?
Work commenced mid December 2019 and will take approximately eight month to complete. During this period working hours will be Monday to Saturday between 7.00am and 5.00pm.

We will generally be in one area for six days at a time and then move along the wastewater route.


How will this impact the community?
Residents may notice more activity in the area, noise from generators, vehicles and a temporary odour. We work closely with residents throughout the duration of the project to minimise the inconvenience to the local community wherever possible.

Sewer relining uses trenchless technology to clean access chambers and refurbish existing wastewater pipes. Trenchless technology is less invasive and requires fewer trenches resulting in less disruption to the community.

As part of this work, Interflow will also replace ageing property gas traps and access chamber covers. If access to your property is required the contractor, Interflow, will contact you directly to discuss and arrange entry.

Where required, traffic management will be in place to direct people safely around the work area.

On site issues or project information

For issues on site please contact Steve Faulkner, Interflow Project Manager, on 0438 272 610.

For more information regarding the project please contact Gary Gilmore, Water Corporation Project Manager, via email gary.gilmore@watercorporation.com.au or call (08) 6330 6744.
Contact us
Grace Davies - Community Engagement Officer
(08) 9420 3812
grace.davies@watercorporation.com.au