Osborne Park drainage upgrades
Project goal:
Upgrading essential drainage infrastructure in Osborne Park and the surrounding area.
Status:
In construction
Delivery Date:
March - June 2020
What's happening?
Water Corporation authorised contractor, Georgiou, are upgrading drainage infrastructure to increase capacity, minimise flooding issues and keep up with growth and development in the Osborne Park and surrounding area.The drainage culvert under Pearson Street, near the intersection of Stephenson Avenue, is being replaced, and sections of the open drain running along Stephenson Avenue to Herdsman Lake are being cleared out and re-lined.
When is this happening?
Construction work is expected to take place from March to June 2020.

General work hours will be Monday to Friday between 7am and 5pm, however, some overnight work is required to reduce overall construction time and minimise traffic impact.

To minimise the impact of necessary road closures, work to replace the culvert at Pearson Street will include 24 hour work over the Easter and Anzac Day long weekends.
Easter long weekend work hours will be 6pm Thursday 9 April to 5am Tuesday 14 April.


Anzac Day long weekend work hours will be 6pm Friday 24 April to 5am Tuesday 28 April
This work has been scheduled during these times to align with lower traffic flow.
Where is this happening?
The culvert being replaced runs under Pearson Street, south-west of the intersection with Stephenson Avenue.

The section of drain being upgraded begins just south of Scarborough Beach Road and runs along the western side of Stephenson Avenue, continuing under Pearson Street towards Herdsman Lake. An access track is being constructed on the shoulder of the drain south of Pearson Street for future access and maintenance.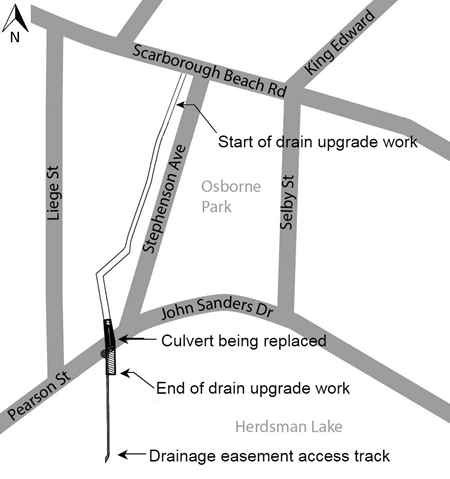 How will this impact the community?
Nearby residents and businesses will notice more noise and activity along the drain, including road cutting, excavation and compacting activities.

Traffic management, including detours where necessary, will be in place during construction to direct road users and pedestrians safely around the work.

Night works are planned over the Easter and Anzac Day long weekends. This work will unfortunately cause noise disturbance and will require work lights to be in operation overnight. Overnight construction activities will generally be contained to the area around the culvert.

The culvert will be constructed using open trench excavation within the road, road reserve and verge areas. This methodology has been selected to help reduce construction timeframes, minimising disruption to residents and commuters.

We understand and appreciate that our work may cause temporary inconvenience and disruption, and we will do what we can to minimise impact and complete the work as quickly as possible.
A team of environmental advisors will be involved throughout the project to ensure the impact on the environment is minimised. The environmental strategy for this project was created to support the our Environmental Policy.

Our vision as an organisation is to balance 3 key pillars: Safety for all, Lowest total cost, and Lowest environmental impact; all equally important but all challenging to find the correct balance of all three while ensuring we can provide wastewater management services and infrastructure for the community.