Osborne Park drainage upgrades
Project goal:
Upgrading essential drainage infrastructure to increase capacity, minimise flooding issues and keep up with growth and development in Osborne Park and surrounding areas.
Status:
Stage 1: Complete
Stage 2: In construction
Delivery Date:
Stage 2: February-March to July-August 2021
What's happening?
Stage 1:
Water Corporation's authorised contractor Georgiou have completed stage 1 upgrades to the Osborne Park open drain near Pearson Street in Woodlands.
Revegetation work just north of Pearson Street:
Due to construction delays, the revegetation work was postponed until mid-2021, when the cooler temperatures will give the new vegetation a better opportunity to successfully establish.
Our authorised contractor has revegetated the area by planting trees, shrubs and ground cover seedlings that are native to the Swan Coastal Plain. More information about the revegetation plan can be found on the Revegetation Plan update.
Stage 2:
The upgrade work will involve installing a new culvert, a structure that allows water to run under a road, under Scarborough Beach Road between Ellen Stirling Boulevard and Stephenson Avenue. A new section of the drain will be constructed to join this new culvert to the existing drain network.
The culvert will be constructed using open trench excavation within the road, road reserve and verge areas. This methodology has been selected to help reduce construction time frames, minimising disruption to residents and commuters.
Sections of the existing drain south of Scarborough Beach Road will also be re-lined to increase the capacity. The open drain will be cleared of debris and water-based vegetation such as reeds and then deepened. A rock wall lining will be built over the current wooden panelling to secure and protect the banks and to create the correct slope for effective water runoff.
Stage 2 traffic impacts:
Wednesday 19 May to Thursday 3 June
- Scarborough Beach Road, between Ellen Stirling Boulevard and Selby Street North, will experience lane closures in the eastbound lanes. Traffic will be able to travel in both directions at all times.
- Stephenson Avenue northbound lane will be closed, detour via Liege Street, Rosewood Avenue and Birchwood Avenue or via Selby Street North.
- Stephenson Avenue southbound will remain open to traffic travelling westbound on Scarborough Beach Road.
- Traffic conditions have changed at the intersection of Liege Street and Pearson Street, please follow the traffic signage in place.
- Access to businesses along Scarborough Beach Road will remain open including Westfield Innaloo.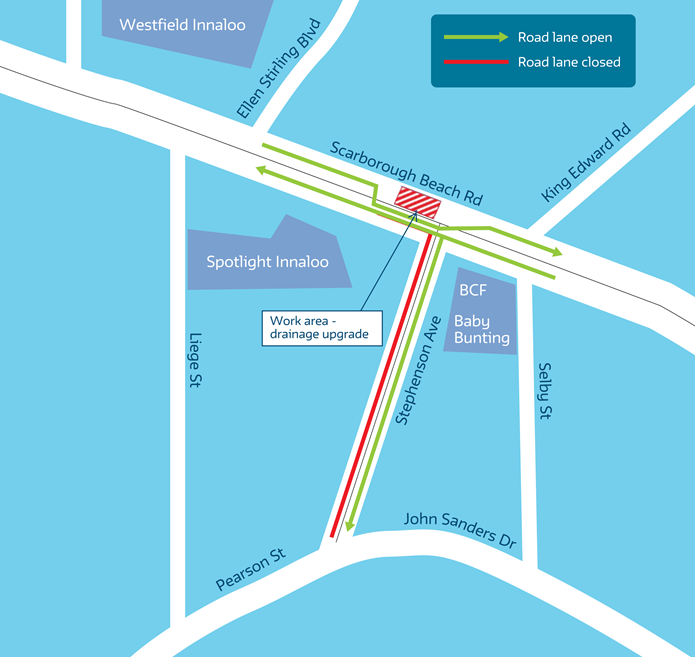 Thursday 3 June to Thursday 10 June
- Night work on Thursday 3 June to remove barriers and complete reinstatements along Scarborough Beach Road. Lane closures on Stephenson Avenue northbound will also be removed during night work.
- Stephenson Avenue 'slow lane' closure northbound from Friday 4 June to Thursday 10 June between the hours of 7am and 4pm.
- Liege Street and Pearson Street road conditions will return to normal by close of business Friday 4 June.
*These times are estimates only and are subject to change.
When is this happening?
Construction work is planned from Friday 5 March 2021 and is expected to take about 6 months to complete. This timing may be extended due to wet weather and/or COVID-19 restrictions.
Work will be completed between 7am and 6pm on weekdays, and Saturdays if required.
24-hour work may be required when completing construction activities across Scarborough Beach Road. If 24-hour work is required, residents and businesses in the area will be notified 48 hours in advance.
Where is this happening?
See map below for the location of completed stage 1 and planned stage 2 work along the drain.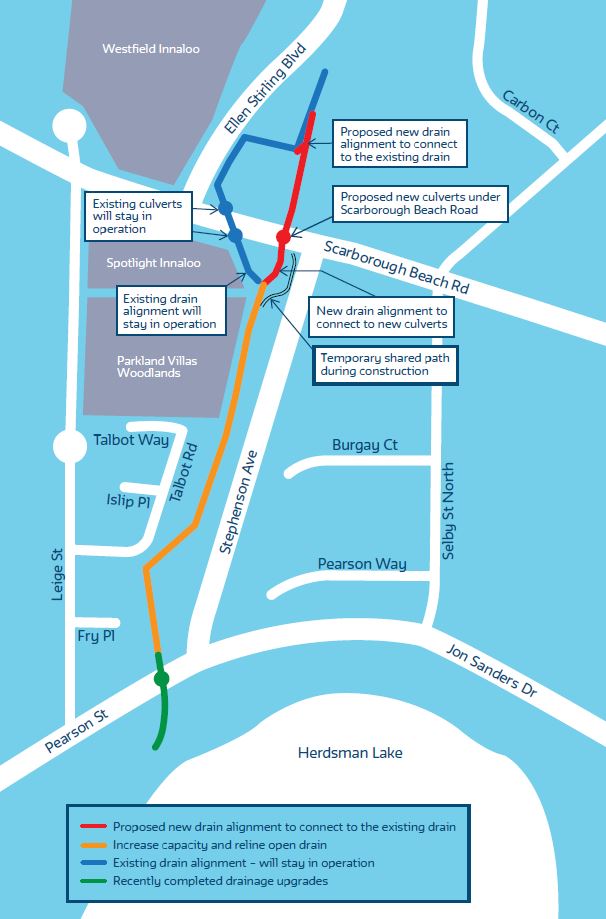 What will the impacts be?
Noise, dust and vibrations: Nearby residents will notice more noise and activity along the drain, including noise from the pumps that are required to drain the water from the area for construction. Construction activities will also cause noise and vibrations from machinery and trucks as they transport materials to and from the work site, and from crews building the rock wall lining of the drain.
Sections of the sound wall just south of Scarborough Beach Road will be removed to allow enough room for the construction of the new drain alignment and to install the temporary shared path. This may increase traffic noise to nearby residents. This wall will be replaced at the end of the project.
Strong Odour: Once the water is drained, sediment and sludge at the bottom of the drain known as silt will be exposed which may cause a strong odour. We will do what we can to minimise odour by treating and removing the silt as quickly as possible.
Traffic Interruptions to Scarborough Beach Road, Stephenson Avenue, Talbot Road and shared path: To lessen the impact on traffic using Scarborough Beach Road, westbound and eastbound lanes will be closed in a staged approach. During this time it will also be necessary to temporarily close the northbound lane of Stephenson Avenue. During lane closures, traffic management will be in place to assist road users around the work.
The shared path at the corner of Stephenson Avenue and Scarborough Beach Road will be temporarily obstructed while construction takes place. A temporary path will be constructed and traffic management signage will be in place to assist pedestrians and cyclists with detours.
There may also be minor traffic interruptions experienced to Talbot Road as machinery, equipment and materials enter and exit the area during construction.
Environmental Impacts: It will be necessary to clear all vegetation along the new drain alignment to allow for the new infrastructure to be installed. This will include several large trees and ground coverings to the north and south of Scarborough Beach Road. Several smaller trees will also be cleared south of Scarborough Beach Road to install the temporary shared path. Vegetation will be cleared from Tuesday 2 March 2021. All vegetation will be removed with all necessary approvals in place.
Vegetation along the existing drain between Pearson Street and Scarborough Beach Road has been assessed by independent arborists based on environmental value, safety, and location. Around a hundred trees were surveyed and eleven have been identified as requiring removal. Several more trees will also be pruned for safety reasons.
We are committed to looking after all fauna in the area during the drainage upgrades. Fauna handlers will actively inspect the construction site and relocate fauna species appropriately as required. Re-lining the drain will be completed in sections, which will allow aquatic species and birds to naturally move to non-construction areas while work takes place. Once the work is complete, the drain will be reopened and wildlife will be free to disperse and repopulate the areas.
A team of environmental advisors will be involved throughout the project to ensure the impact on the environment is minimised as much as practicable. Our vision is to balance three key pillars: safety for all, lowest total cost and lowest environmental impact, while ensuring we can provide sustainable management of water services, including drainage, for the community.
For more information about our environmental approach please see our environmental impacts information sheet or contact Community Engagement Advisor Kate Lee.