Project goal:
Renew 2.1 kms of ageing water mains in Fremantle to help secure the reliability of water to customers in Fremantle and the surrounding areas for decades to come.
Delivery Date:
Mid 2019 to November 2019 and April/May 2020 to late 2020 (subject to change)
Current project stage:
We will soon start stage two of work to replace century old water mains in the heart of Fremantle to ensure safe and reliable water supply in the area.
The essential work start on 19 May 2020 and will be carried out in short stages to ensure each individual street will only be impacted for a maximum of six weeks.
To stay up to date and find out about our activities, please visit our engagement hub, where we have dedicated information updated regularly.
What are we doing?
In 2019 we renewed around 1 km of water mains in Fremantle and in 2020 we will be renewing 2.1 kms of water mains in Fremantle.
Why is this work taking place?
This work is essential in order to and to avoid future bursts and leaks.
Where is this happening?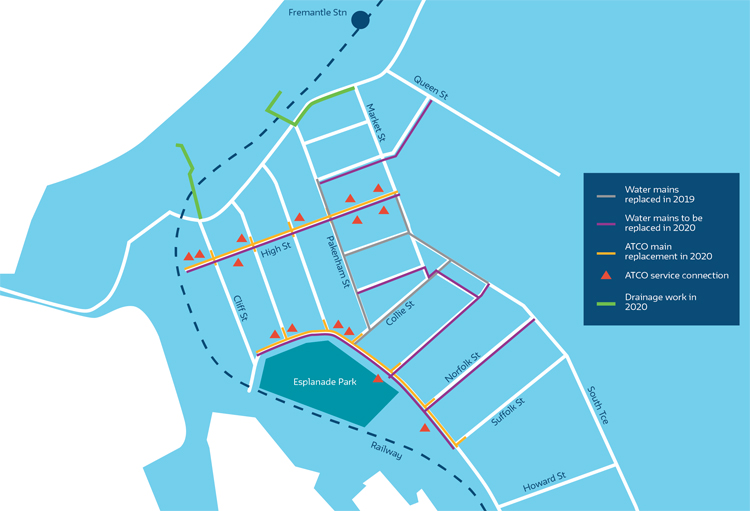 Pipes for Fremantle 2020 scope:
Essex Lane, between Collie Street and Essex Street
Essex Street, between Marine Terrace and South Terrace
High Street, between Little High Street and Market Street
Leake Street, between Pakenham Street and Market Street
Marine Terrace, between Cliff Street and Suffolk Street
Nairn Street, between Pakenham Street and Market Street
Norfolk Street, between Marine Terrace and South Terrace
Other works in Fremantle
We will soon begin work to renew storm water drainage on Phillimore Street and Cliff Street in Fremantle. Visit our project page for more information.
Pop up information centre
The pop up shop is currently closed but set to reopen at a later date. We will inform customers of when the pop up shop will be available.

For further information please visit our Pipes for Fremantle engagement hub.
Contact us
General and community enquiries
Pipes for Perth team
pipesforperth@watercorporation.com.au
(08) 9420 3529
Specific project information
Wing Leung, Water Corporation Project Engineer
0437 787 392