Stirling Highway pipe renewal
What is happening?
As part of our ongoing commitment to future-proof Perth's water supply, we will soon be renewing water pipes near Stirling Highway in Mosman Park. This work will improve the security and reliability of the water supply for decades to come.
When is this happening?
Work is planned to take place between March and June 2020 and is expected to take about 4 weeks to complete. Work will be completed between 7am and 7pm on weekdays, and Saturdays as required.
Where is this happening?
The new water pipe will be installed via open trenching methods, approximately 348m along Stirling Highway, in the public recreation area between the Fremantle train line and Stirling Highway.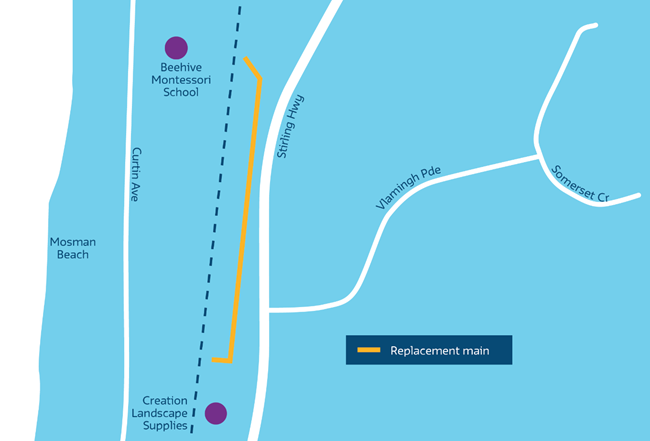 How will this impact the community?
Nearby residents and businesses will notice more noise along the pipeline. All reasonable precautions will be taken to minimise noise and vibrations in the area during the work.
Minor traffic interruptions to Stirling Highway may be experienced as machinery and equipment enter and exit the site.
Environmental advisors will be involved throughout the project to ensure we comply with the regulations and the impact on the environment are minimised. Areas impacted by the work will be returned to as close to their original condition as reasonably feasible. For more information about our environment approach please contact the Community Engagement Advisor.
It is unlikely that there will be an interruption to your water supply during this project. If for any reason this changes, you will be notified at least 48 hours prior to this occurring.
We understand and appreciate that this work may cause temporary inconveniences. We will do what we can to minimise impact and complete the work as quickly as possible.
Contact us
For community enquires
Kate Lee, Water Corporation Community Engagement Advisor
Kate.Lee@watercorporation.com.au
0476 810 379
For specific project information
Wing Leung, Water Corporation Project Manager
Wing.Leung@watercorporation.com.au
(08) 9420 2968.
For general enquiries
Customer Solutions team
pipesforperth@watercorporation.com.au
(08) 9420 3529 (during work hours)

For afterhours assistance
24 hour Faults, Emergencies and Security Line
13 13 75