Project goal:
Construct new pipeline to improve the reliability of water supply for current and future developments in Wandi, within the City of Kwinana.
Status:
Currently on hold
Delivery date:
TBA
Project update
The pipe installed in 2020 has shown structural deficiencies upon on-site testing. As a result, we are not comfortable connecting the new pipe to our existing infrastructure. As the pipe is for future use, not connecting it or replacing it now is not affecting supply.
We have been going through a process of testing and requesting replacement materials in order to replace the installed pipe with materials that we are confident will safely deliver water for years to come. We will notify the local community as soon as new construction dates are available.
We understand that the wait and inconvenience caused by this delay is very frustrating for the local residents. This is why we have completed the reinstatement of all properties and roads, so they can safely be used until work is ready to resume.
We sincerely apologise for the delay with completing this essential work and appreciate your ongoing patience.
Community Project
We recognise the impact of our construction on the community and wanted to thank you for your ongoing patience and cooperation.
As a gesture of goodwill, we reached out to some local community organisations and together, shortlisted three projects to enhance the area, which we then asked you to vote on.
More than 100 votes were cast and the preferred project, with 65% of the votes, was to install walking trail signage at Lake Magenup Reserve.
Together with the City of Kwinana and Wandi Progress Association, 11 new trail signs were developed and installed throughout the walking trail. For more information please visit: Wandi Progress Association - Lake Magenup Walk trail.
Project overview
We are installing a new 2.3 kilometre distribution main along Lyon Road, from Honeywood Avenue to Cassowary Chase, Wandi.

The proposed water main will be below-ground and constructed using open trench excavation. This new water pipeline is part of our long term plan to ensure we can continue the water supply and meet increased water demand in the southern metropolitan area.

Please see below map of work area: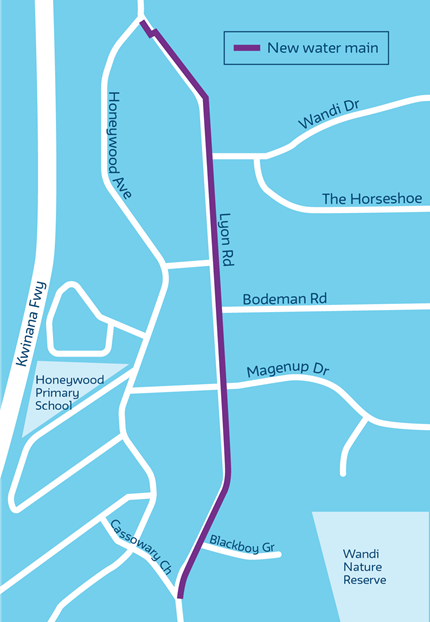 How do I find out more?
To stay up to date on the project, sign up to our mailing list.
Sign up