Project goal:
Construct new pipeline to improve the reliability of water supply for current and future developments in Wandi, within the City of Kwinana.
Status:
Construction on hold
Delivery date:
2021
Update - April 2021
During the testing process for the new pipe which was installed at the end of last year, we discovered some unexpected issues and as a result we are not comfortable connecting the new pipe to our existing infrastructure. The pipeline replacement is likely to occur around the middle of winter 2021, we will provide an update as soon as we know.
What's happening?
We are installing a new 2.3 kilometre distribution main along Lyon Road, from Honeywood Avenue to Cassowary Chase, Wandi. The proposed water main will be below-ground and constructed using open trench excavation.

This new water pipeline is part of our long term plan to ensure we can continue the water supply and meet increased water demand in the southern metropolitan area.

Please see below map of work area: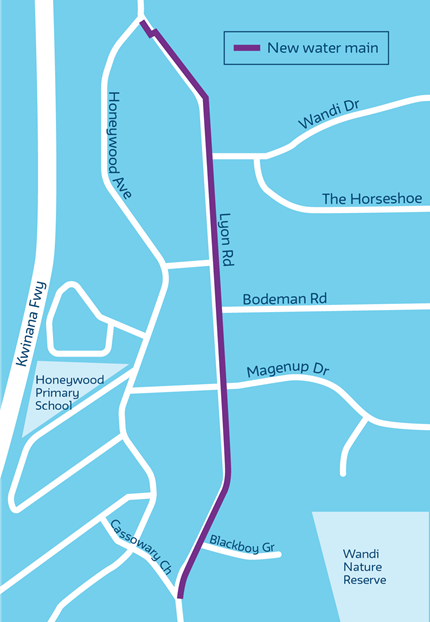 What are the impacts?
Residents and visitors may notice less activity in the area as we focus on testing the water main. Please rest assured we are still working and will notify the community when we plan to start construction again.


Reinstatement
Lyon Road and the Magenup Drive roundabout have been resealed. As this is a temporary reinstatement, we will maintain signage to remind road users to be mindful of changed road conditions and the Rob Carr team will continue to do regular checks of the road condition. If you have any concerns, please contact us.
Speed restriction signs have been removed but we urge all road users to continue to be mindful and drive safely.
While driveway and road reinstatement have been put on hold for now, we are committed to ensuring that any area impacted by our work will be returned to as close to original condition as possible. We will be working closely with the City of Kwinana and residents to ensure that once the work is completed all reinstatements are carried out to an acceptable and high standard.
Urgent issue or enquiry?
If you have an enquiry or issue requiring immediate action onsite, please contact the Project Manager from Rob Carr, Paul Lee on 0458 026 685 or email Paul.Lee@robcarr.com.au
How do I find out more?
To stay up to date on the project, sign up to our mailing list.
Sign up
Contact us
Lauren Brook - Community Engagement Senior Advisor
9420 3833
lauren.brook@watercorporation.com.au