Wangara wastewater pipeline
Project goal:
To cater for population growth and development in the north-eastern suburbs, including Ellenbrook, West Swan, Bullsbrook and Herne Hill.
Status:
Complete
To stay up to date and find out about our activities, please visit our engagement hub, where we have dedicated information updated regularly.
Delivery Date:
2022
What's happening?
Water Corporation has installed a new 1.8 km wastewater pipeline in Wangara, as part of wider plans to cater for population growth and development in Perth's north-eastern suburbs.


Where is it happening?
Please refer to the below map for the location of the work.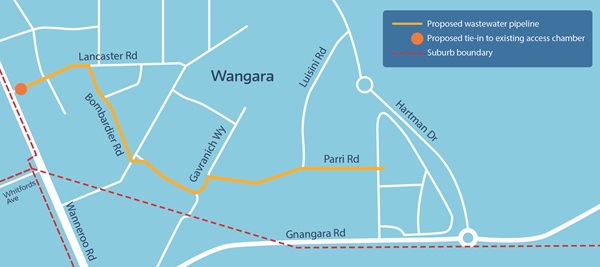 When is it happening?
Work is now complete and we are finalising a few outstanding reinstatements with individual properties.
How will this impact the community?
Noise
Construction work can, unfortunately, be noisy and dusty at times. Construction of the pipeline will involve road cutting, excavating and compacting. These activities are most noticeable at the start and end of our work when we cut the road and excavate, and then when we backfill and compact to reinstate the road. We may also need to use generators for some sections of work. Rest assured, all open trenched areas are always safely fenced and signed.
Traffic management
The work will be carried out in stages, and as the pipeline is a large 1 m diameter pipe, one lane of traffic will be affected during the work. In certain sections, full road closures may be required for short periods of time. The pipeline will be installed using trenchless techniques (tunnelling) in Lancaster and Bombardier Roads to minimise disruption to the community.
Carina Harris - Community Engagement Senior Advisor
(08) 9420 2278
carina.harris@watercorporation.com.au
Related documents