Wangara wastewater pipeline
Project goal:
To cater for population growth and development in the north-eastern suburbs, including Ellenbrook, West Swan, Bullsbrook and Herne Hill.
Status:
In planning
To stay up to date and find out about our activities, please visit our engagement hub, where we have dedicated information updated regularly.
Delivery Date:
2021
What's happening?
Water Corporation is planning to install a new wastewater pipeline in Wangara, as part of wider plans to cater for population growth and development in Perth's north-eastern suburbs.

The work includes:
A below ground 900mm diameter pressure main approximately 300m long
A below ground 1000mm diameter gravity sewer main approximately 1500m long
Where is it happening?
Please refer to the below map for the location of the work.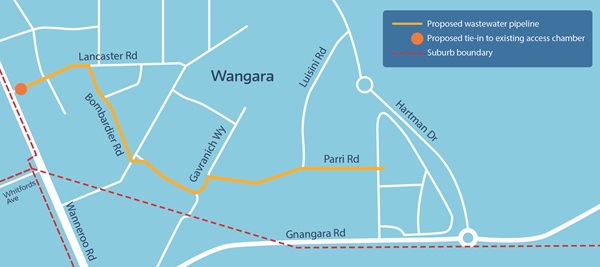 When is it happening?
We anticipate that construction will start in 2021 and will take approximately 12 months to complete.
How will this impact the community?
There will be noise and traffic impacts. The majority of work will take place in the verge and road reserves; with impacted roads being reduced to single lane during the work. In order to safely conduct this work, there will be traffic management in place during construction to direct road users and pedestrians safely around the work. Once the new pipes are in the ground, the impacted areas will be backfilled, compacted and reinstated.
Contact us
Carina Harris, Community Engagement Advisor
(08) 9420 2278
carina.harris@watercorporation.com.au
Related documents