As climate change continues to impact Western Australia sustainability has become a key deciding factor in what we buy—including big purchases like a new home. Gold Waterwise Developments highlight the important role developers have in creating liveable communities that put sustainability and water efficiency first.
The Waterwise Development Program promotes discussion and collaboration between developers regarding the best practice outcomes for their communities. Sharing and growing from valuable learnings with industry peers is key to many water-saving success stories.
Amble Estate
Located in Perth's north, Amble Estate encompass water efficiency both inside and outside the home. All homes within the estate are provided with two water-saving and pressure increasing showerheads, which can save up to 20,000 litres of water per year. In the wider community, Amble Estate has installed a custom drainage system which captures 100 per cent of stormwater to then be used to recharge the water table. The development features dry parks which require zero irrigation to flourish. To explain the grass-alternative design and encourage discussion about the use of native, drought-tolerant plants throughout the estate, the parks use an array of signage.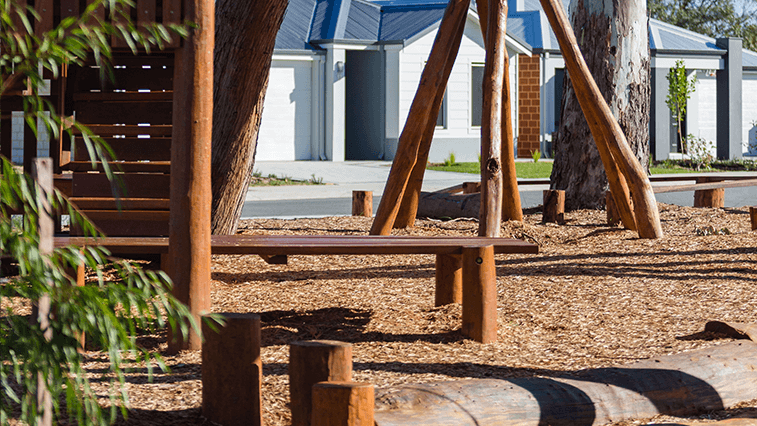 Amble Estate nature playground utilises native and drought tolerant plants which require zero irrigation.
Cygnia Cove
Cygnia Cove is a development that is built with long term sustainability at its foundation. All dwellings are designed to reduce water use and encourage water recycling. The developers offer all residents a "green bonus", which helps offset the installation cost of a rainwater tank and a greywater recycling system. The homes within the development are also able to connect to a bore system suitable for irrigation of waterwise gardens. The garden design minimises the need for ongoing water use by using WA native plant species, including many endemic species throughout the development. Cygnia Cove is centred around a restored, pristine wetland which provides a perfect feeding and breeding habitat for Western Australia's iconic Black Swans. The result is a stunning, healthy wetland accessible to the entire community.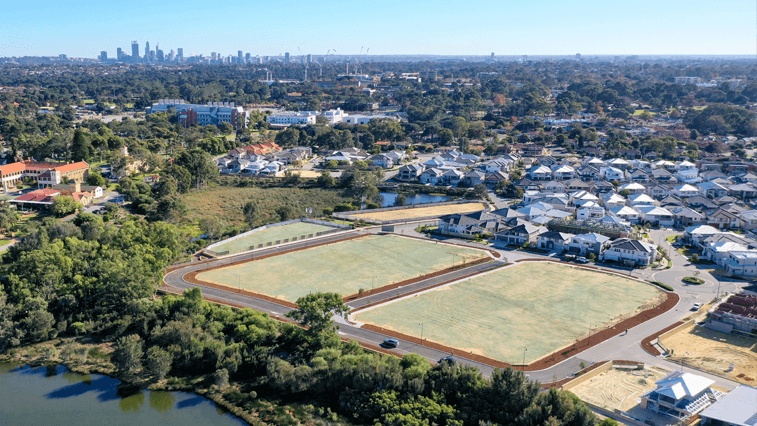 Cygnia Cove wetlands provide a breeding habitat for Western Australia's iconic Black Swans.
Vivente
Located in Perth's south, Vivente is committed to building a sustainable community that can respond to the impacts of climate change. Home owners are required to install efficient WELS rated appliances including dishwashers, washing machines, toilets, showers and tap fittings to reduce water use within the home. Recognising irrigation as one of the largest demands for water, Vivente offer a waterwise landscape package. The package encourages homeowners to choose waterwise and drought tolerant plants for their garden. To minimise the need for ongoing irrigation, Vivente have retained much of the natural vegetation and use waterwise garden practices in any landscaped areas. Waterwise street trees beautifully frame the neighbourhood, which also reduce the need for irrigation and provide a green corridor through the estate.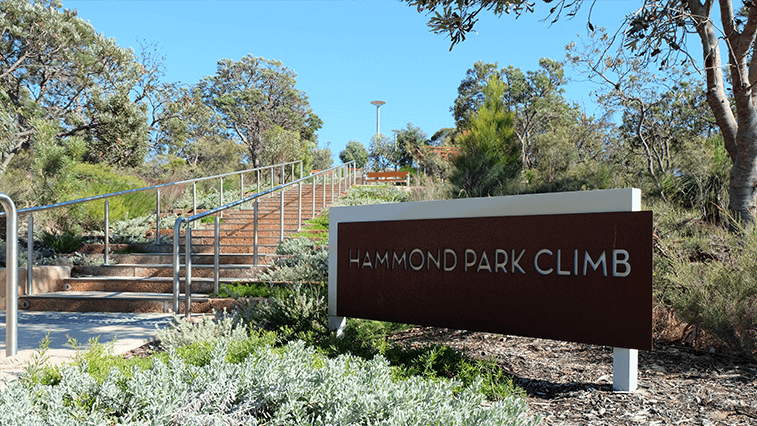 Vivente waterwise street scapes and vegetation.
WGV
Located in the Fremantle suburb of White Gum Valley, WGV's design guidelines mandate a suite of best practice, in-house water efficiency initiatives. These initiatives include water efficient taps, showerheads, toilets, rainwater tanks and waterwise landscaping packages. In combination with the smaller dwelling sizes, homeowners are encouraged to make meaningful water savings. To further reduce the amount of scheme water used within the development, WGV sustainably manage a community bore to be used for garden and public space irrigation.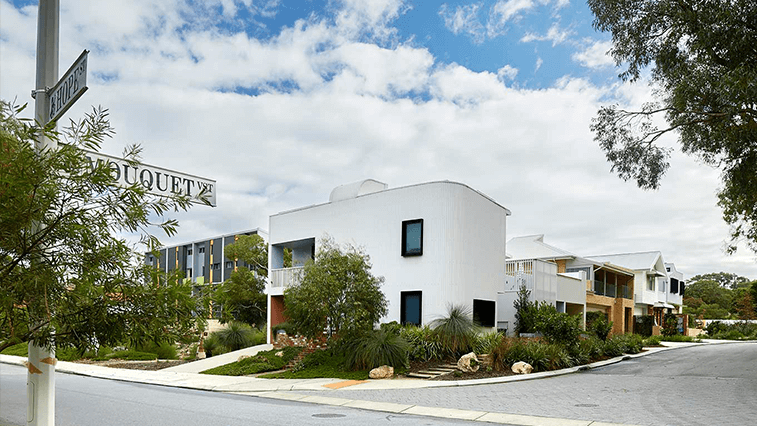 The Waterwise White Gum Valley Development in Fremantle.