03 Aug 2021

|

Update
Securing Denmark's future water supply
Although picturesque Denmark evokes images of turquoise beaches, dense forests and rustic farmhouses, climate change has greatly impacted the town's water supply. The lush south west pocket of Australia has experienced increasingly dry decades since records began in 1911.
Until now, Denmark has been completely reliant on rainfall feeding into the nearby Quickup Dam for drinking water year round. However, that rainfall is becoming increasingly unreliable.
Between 2014 to 2019, Denmark recorded four of its five driest winters on record, reflecting the very real impact of climate change across the region. With rainfall forecast to decline further into the future, it was clear that a new, more secure water supply was needed.
Building a pipeline from Albany to Denmark
To secure the town's supply in the long term, a 43km pipeline has been built to connect Denmark to our Lower Great Southern Towns Water Supply Scheme (LGSTWSS). This intricate and complex system of underground pipes, sustains towns all over the region, supplying water to Albany, Mount Barker, Kendenup, Narrikup and many other towns.

In July 2020, a customary Welcome to Country was held at the construction site prior to the diggers breaking ground. Pipeline installation was primarily conducted by excavating open trenches and using horizontal directional drilling to install pipes under the Quickup River and Hay River. This innovative method displaces far less soil and allows underground pipes to be connected without impacting the natural waterway.

Now, after installing an average of 400 metres of pipe each day, Water Corporation can alternate Denmark's drinking water throughout the year between the LGSTWSS and Quickup Dam.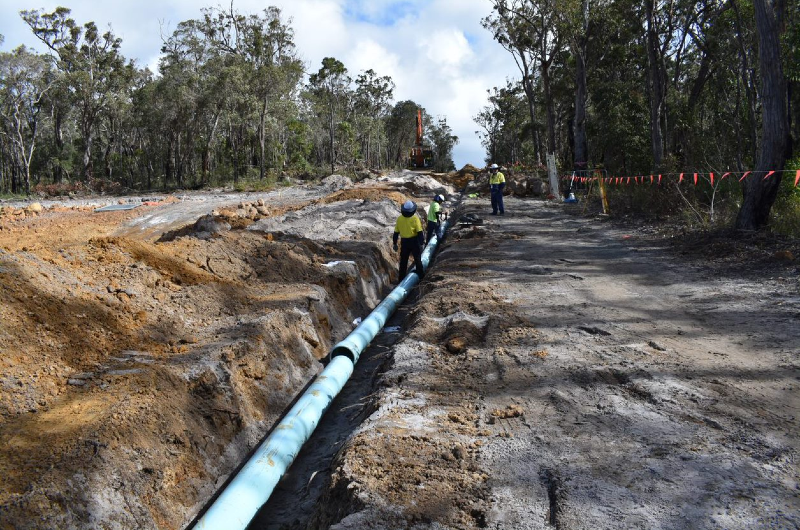 Denmark pipeline construction: An average of 400 metres of pipe was installed each day.
Finding the right people for the job
It takes a lot of effort and a 'one team' approach to pull off building a pipeline of this scale. Aside from extensive engineering, planning and community engagement, more than 186 locals in the Great Southern were employed during construction.
Weather permitting, two kilometres of pipe was laid each week by an exceptional team of highly motivated and determined individuals. One of those driving forces was Andrew Swzecow, who has lived in Albany all his life and is very passionate about the environment. Well known in the community, Andrew jumped at the chance to snap up full-time work due to the recent downturn in regional and seasonal job prospects.
The opportunity to support the pipeline project was exactly what Victor Woods was also looking for. Victor grew up in Tambellup before moving to Albany in his late teens. Mr Woods was part of the dynamic duo who cleaned the office spaces and accommodation for the team.
"I had a great time and had a good laugh with the people I met. They were really easy to work for, and I thoroughly enjoyed what I did."
Many other local businesses were engaged to supply materials or assist during the works. It is because of community support and working together we were able to successfully pave the pathway to a climate-resilient future for Denmark.
For more information about the project visit yoursay.watercorporation.com.au/waterwisedenmark