29 May 2020

|

Update
Waterwise Gold Businesses kicking water efficiency goals
Since 2007, the Waterwise Business Program has helped customers save over 100 billion litres of water. The program supports business customers using more than 20 million litres of scheme water each year, to improve water management and help save water.
Read on to find out how our Gold Waterwise Businesses are working together to identify and implement real water saving initiatives in WA.
Staff and community collaboration
Crown Perth and St Barbara Ltd operate in very different industries, but both have shown outstanding commitment to our Waterwise Business Program by empowering their staff to be waterwise ambassadors.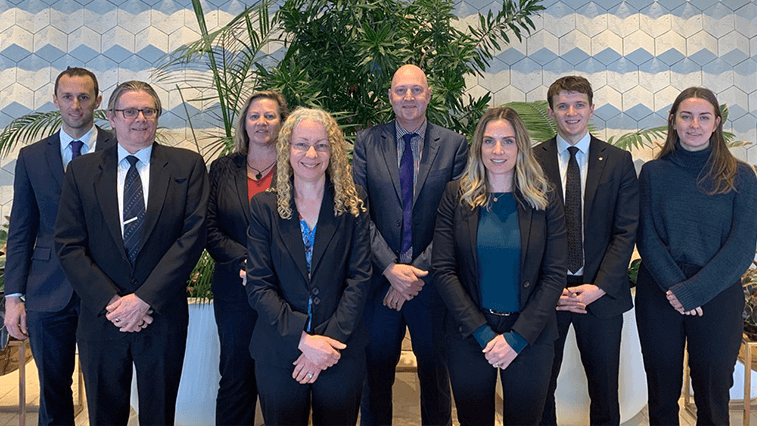 CrownEarth Committee members
Australian Gold producer and explorer St Barbara, launched an awareness campaign to align with their active leak detection program.
By educating teams to lead water efficiency projects, promote waterwise messaging and hold discussions at monthly meetings, water management was transformed. Passionate staff implemented a refurbishment program, which saw 3 star showerheads and 4 star toilets fitted across the camps and in their commercial kitchen. When combined with the leak detection program, it brought about a 19.5% reduction in water use for the organisation.
St Barbara has reiterated the strength of their approach isn't defined by one well-executed project, but by a systematic, sustainable appreciation for water efficiency across the business.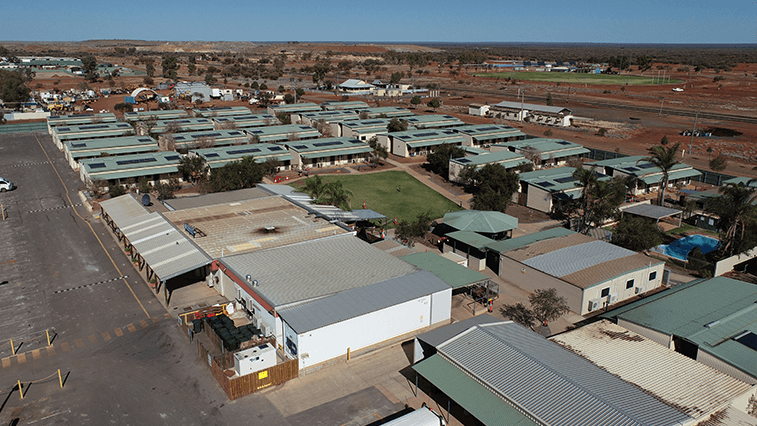 St Barbara accommodation village.
Crown Perth's employees are committed to making meaningful contributions toward reducing their environmental impact.
Their water management team and environmental sustainability program - CrownEarth, unites staff from around the business to focus on energy, water and waste management initiatives. They're a dynamic force around Crown and actively spread the waterwise message to their colleagues, contractors and guests.
Through daily inspections of toilet and kitchen areas by engineering staff, sub-metering of operational areas, retrofitting sprinklers and irrigating with groundwater, and rigorous reporting, water use has reduced by 17.3% throughout 2018/19.
Monitoring water consumption
For many of our waterwise businesses tracking their water consumption has been a key part of saving water and ensuring continuous improvement of efficient water practices.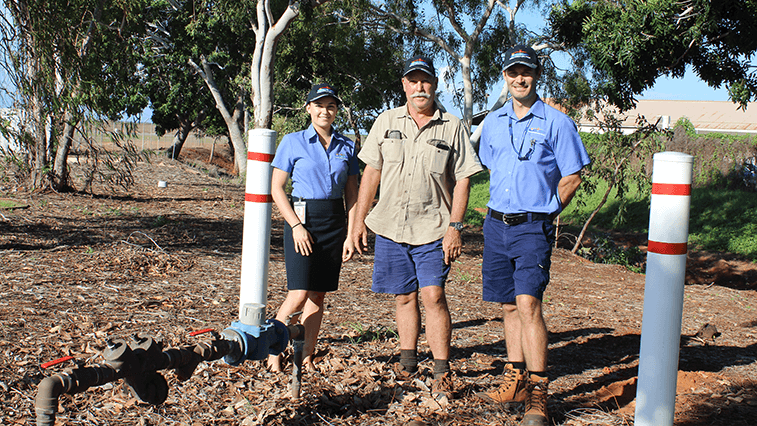 The Broome International Airport has installed over 36 sub meters around the facility to monitor and identify leaks and recognise unusual water use.
Alcoa's alumina refinery in Pinjarra uses a 24/7 water consumption monitoring program as part of its normal business processes, to ensure that any unusual fresh water use is promptly investigated.
The complexity of the water balance around the refinery means even small operational changes can have significant impacts. All staff receive environmental awareness training that includes recognition of the importance of water conservation.
The refinery has an active Water Management Team that looks for opportunities to improve water efficiency, including minimising the use of scheme water. With Pinjarra's new residue filtration facility now in operation, more recovered process water will be available for re-use in the coming years, which will assist in reducing the refinery's fresh water needs.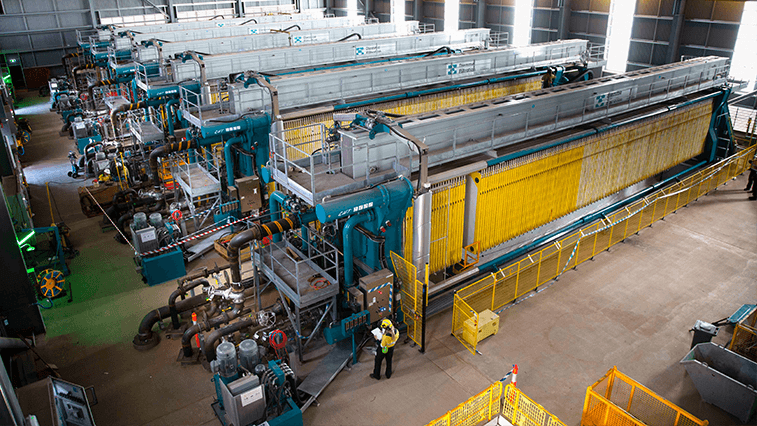 Filter presses at Alcoa's Pinjarra refinery filtration facility.
BHP Nickel West Kambalda is striving for a water secure world by 2030 and has made instrumental changes to achieve this goal.
Recycled and treated potable water make up a notable 36% of total process water use. Stormwater run-off from a local catchment dam is also harvested. Once the dam reaches a certain capacity, stormwater is pumped to the 'process tank' for introduction into the circuit.
Water use monitoring is taken very seriously through a scheduled maintenance system, sub-metering network, and monthly water use reports.
Located near Kalgoorlie, the Kanowna Belle Northern Star Resources gold mine has seen an impressive 11.43% decrease in water use in the last year.
Daily water use monitoring has been key to ensuring valuable freshwater is used to full capacity and recycled wherever possible. Due to 80% of total water use required for the processing plant, the operation and design incorporates significant water-recycling processes.
Storage dams are all equipped with floating liners/covers to prevent evaporation and leak detection systems enable real-time response if required.

Kanowna Belle Northern Star monitors water use daily to ensure valuable water is recycled wherever possible.
The purchase of a state-of-the-art leak detecting acoustic microphone, new sub-meters and a significant overhaul of garden irrigation, has enabled Mantarays Ningaloo Beach Resort to soar to gold recognition status.
The resort is uniquely built on beach sand, which means water dissipates so quickly it can take months for an underground leak to surface. After a renewed focus on water monitoring to establish a base line, staff can now investigate leaks when water use spikes. Additionally, through other water saving measures including the installation of water efficient appliances and waterwise messaging, the resort has been able to encourage their guests to conserve our most precious resource.
The aged care home and services provider recognised the need to focus on the environmental consequences of their actions, and decided to track water use across their sites for two years.
Invaluable insight came out of this project and performance benchmarks were set and integrated into standard practice across all Southern Cross Care facilities. This included replacement of fixtures to meet minimum 3-star WELS rating, participating in our showerhead swap program, conducting site audits and improving leak management. Gardens were also redesigned through native planting programs, mulching schedules and ongoing bore and irrigation maintenance.
A substantial saving of over 20% of total water use was achieved at Success Village through the careful planning and implementation of a new waterwise irrigation system.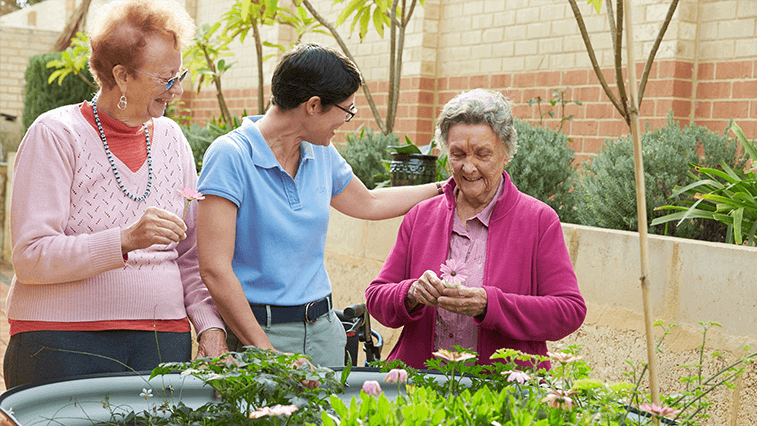 Residents enjoying native garden at Southern Cross Care.
Maddington Central unearthed a very stubborn, invisible leak through data loggers and inspecting all service conduits and ducting to locate the source of the water use. This investigation aided in locating a leak of approximately 50 litres/ minute which once repaired returned water use outside of normal business hours to a zero base flow. This repair led to a reduction in water use of nearly 40% over the year.
One-on-one tenant engagement now looks at ways to reduce water use within the individual tenancies and locates any surplus use. The centre swears by data loggers on all water meters to identify and problem solve any use outside of normal trading hours. All amenities have now been fitted with waterwise toilets, timed taps and waterless urinals
Broome International Airport has undertaken major upgrades to improve efficiency by monitoring their water use. They've innovated with the installation of more than 36 sub meters around the facility to monitor and identify leaks and recognise unusual water use. This has also enabled better understanding of water use across the busy area.
Minimum 3-star WELS rates fixtures and fitting have been installed, and a comprehensive audit of the irrigation system has led to essential repairs. A site-wide commitment has been made to identify and report leaks.
Water efficient technology
In the face of climate change, we have a shared responsibility to conserve and protect our precious water. Employing cutting edge water efficient technology, just as these Gold Waterwise Businesses have, provides impressive water savings and a foundation for future innovations.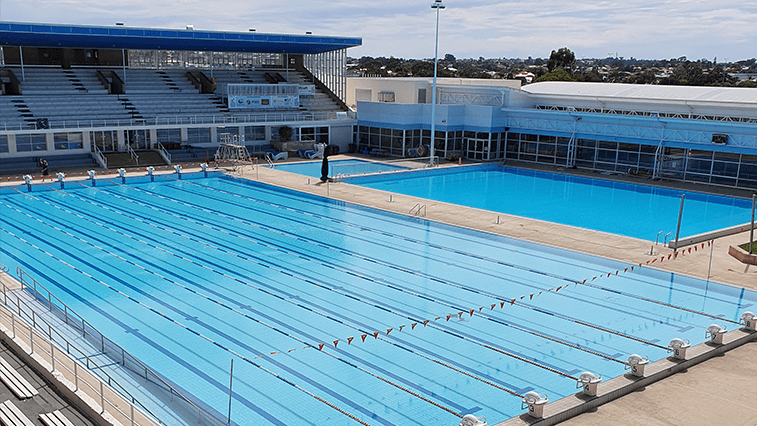 Beatty Park Leisure Centre has implemented clever initiatives such as pressure-based backwashing to help them reduce the amount of water used to maintain their pools.
With operations on the Dampier Archipelago, Dampier Salt is taking advantage of the seawater and reducing their freshwater use.
Conveyors and haul trucks are now all primarily washed with seawater. Due to this clever seawater substitution program, Dampier Salt has managed to almost halve their overall water use. But their quest to reduce this figure continues.
All levels of the business are involved in making small changes to ensure water conservation is engrained in corporate culture. This includes upgrades to infrastructure, improved leak detection, rigorous reporting and training for all staff.

Dampier Salt has managed to almost halve their water use following their seawater substitution program.
Located in Leederville, Beatty Park Leisure Centre is always looking for opportunities to innovate and improve their facility and maintenance planning.
Their commitment to water conservation led to the installation of a water efficient hot water system and replacement of a 100mm ring main to prevent leaks occurring in the old pipework. Dual flush toilets, water efficient shower heads and low flow urinals have also been installed, all of which have been embellished with waterwise messaging for patrons.
Another clever initiative is their pressure-based backwashing to minimise water use. Backwashing an entire pool requires a lot of water, so rather than do this on a regular schedule, they only backwash when the system advises, because of increased pressure.
Stockland Riverton Shopping Centre collaborates with other centres in their portfolio to remain ahead of the game with water efficient technologies.
With the development and introduction of online water tracking software, Stockland has achieved a far more coordinated approach to overall water management. This tracking also incorporates recently installed 4-star Water Efficiency Labelling and Standards (WELS) rated tap timers, which have been attached to public amenities. Tenants are metered separately and are able to access this information to better understand their individual water footprint.
These initiatives have contributed to over 20% reduction in water use over the last year. Other cost effective reductions have come about from redesigning their irrigation system and investing in waterwise plants.
RAC Exmouth Cape Holiday Park recently reinvigorated their lush surrounds, presenting an opportunity to implement invaluable water saving hacks across the park.
Automated irrigation now prevents over watering and taps have been upgraded to 4-star WELS rated products. Daily checking and repairing of leaking taps occurs in the three main amenities blocks and at the end of season a full inspection is conducted.
Upon the refurbishment of the site's centre amenities block, greywater is now recycled from the basins to mix with bore water. This mix of greywater and bore water is now used to irrigate the grounds and lawns.
The Craigie Leisure Centre has gone to great lengths to maximise water saving through a series of innovative modifications. Additional sub meters and the replacement of outdoor pool filters, showerheads, tap fittings and toilets to improve the water system was one aspect. They also dug deeper to investigate their processes and discovered that by reducing pool backwashing from 2 minutes to 1 minute, they could reduce water use by 50,000 litres over a 12-month period. Additional sub meters are now in place for daily monitoring.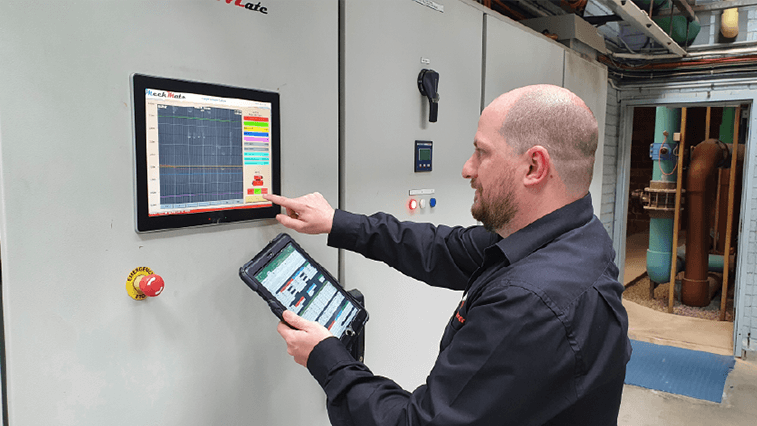 Daily water use monitoring at Craigie Leisure Centre