13 Nov 2023

|

Update
Our landmarks in the sky
Standing tall and proud, our water towers and elevated tanks are eye catching structures.
Ranging from simple and cost-effective structures to stylishly curved, these landmarks play an important role in the water supply chain.
Currently we operate more than 90 water towers across WA, with our most recent tower constructed in Mount Nasura.
How does a water tower work?
Often found on the top of a hill partnered with a reservoir, water towers ensure we can provide sufficient water pressure to the surrounding properties - irrespective of the topography of the land, distance the water must travel or the time of day.
Under our Water Services Licence, we are required to deliver water pressure within a standard range of 15 to 100 metres head (mH) in the metropolitan area, and 13 to 100mH in regional areas. Meters head is a measurement used to determine water pressure, which refers to the height (head) which water rises vertically in a pipe.
Our metropolitan water towers over the years
Braithwaite tanks
One of our oldest towers, the Braithwaite tank was moved to a site in Walliston in the City of Kalamunda and erected in 1977.
Sitting atop modularised stands, these tanks are made from multiple galvanised or painted steel panels that are assembled like Lego bricks.
When we first started installing tanks Perth, the Braithwaite style was our preferred choice as it was both cost-effective and could be moved and rebuilt to any size.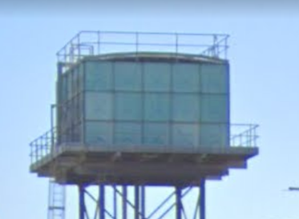 The Braithwaite tank.
The elevated tank
When the Bold Park Reservoir was built in the 1960's, it was decided that due to its prominent position, we needed a tower that was both functional and elegant.
The result was a design that incorporated both features and reflected a newly developed public expectation of visual amenities.
The Bold Park tower was such a hit that the design was repeated at Mosman Park and Casuarina Prison.
A replica was also made in 1981 and turned into a sundial at our Shenton Park workshop. The sundial is still in place and still says the correct time.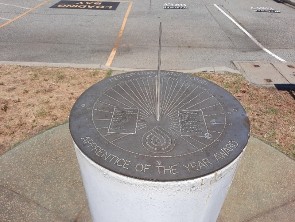 The sundial located at our Shenton Park workshop.
New Yokine tank
By 1986 the Mount Yokine tower was becoming undersized for its supply zone and reaching the end of its economic life.
Thanks to cutting edge technology, a new tower was built which saw the shaft constructed using slip forming while the bowl was formed conventionally on the ground then hoisted into place.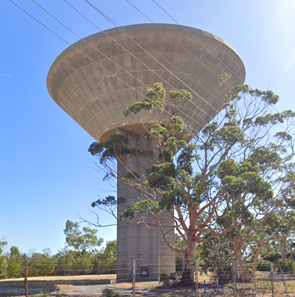 The new and improved Yokine Tower.
Doubleview tank
Over the years we've been making more of a conscious effort to consider the impact the towers have on the landscape, taking into consideration the appearance as well as their abilities.
Built in 1998, the Doubleview tank's signature wine glass shape is now our most used design as it's both functional and aesthetically pleasing.
You may have also noticed additional aerials on our towers, these are to support our mobile phone network.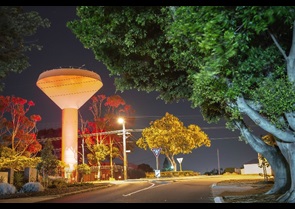 Doubleview tower at night.