05 Oct 2015

|

Media Release
Water Corporation employees roll up their sleeves as WAs largest corporate blood donors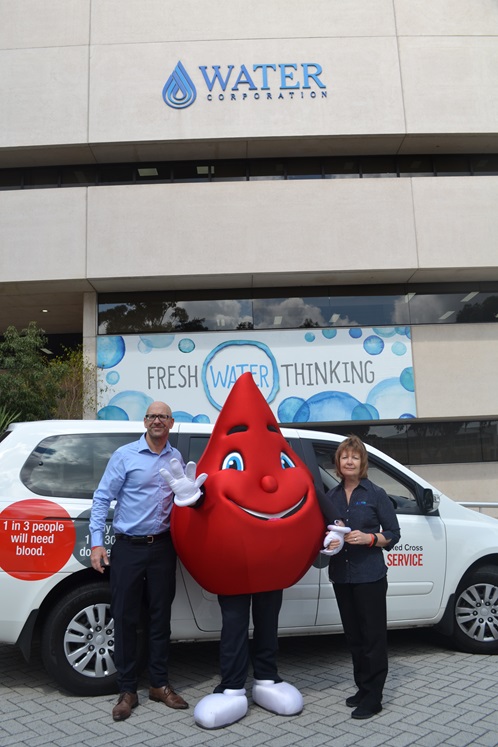 Blood may be thicker than water, but Water Corporation's employees aren't letting that stop them – with the utility named Western Australia's largest corporate blood donor in 2014 for the third consecutive year.

Over the past three years Water Corporation employees helped saved 4,578 lives through more than 1,526 donations made to the Australian Red Cross Blood Service.

Water Corporation Chief Executive Officer Sue Murphy said she was immensely proud of the commitment her employees had made to saving lives.

"At Water Corporation we have a safety goal of Zero Harm that we strive to achieve in everything we do - however, it is a wonderful day when we can say our employees have not only achieved Zero Harm, but have actually helped save lives," Mrs Murphy said.

Mrs Murphy said the Australian Red Cross Blood Service was one of Water Corporation's partners through its employee giving program, Wavemakers.

"Our Wavemakers program allows our employees to give back to the Western Australia community, and as you can see from the results we take that seriously," Mrs Murphy said.

"I would like to make special mention to our Red Cross ambassador Chris Le Juge De Segrais who has made our blood donation success possible."

Australian Red Cross Blood Service Community Relations Officer, Mark Bradstreet, said the amount of donations made and number of lives saved was testament to the commitment, enthusiasm and generosity of the staff at the Water Corporation.

"It is so inspiring to work alongside Chris and her team, watching an organisation contribute so much year after year and on behalf of the thousands of patients in WA whose lives have been affected so positively, the Blood Service extends an enormous heartfelt thank-you," Mr Bradstreet said.

Mr Bradstreet encouraged organisations to become part of the Australian Red Cross Blood Service RED25 program and give back to the community, while encouraging their employees to become lifesavers. For more information program, contact the Australian Red Cross Blood Service on 1300 886 524 or go to www.donateblood.com.au

Maybe one day your organisation could challenge the Water Corporation for top spot in WA!
---
Media Enquiries:
Contact: Media Team
Phone: (08) 9420 2555