15 Aug 2017

|

Media Release
Do your bit to protect drinking water quality at Harding Dam
For more than 30 years, Harding Dam has been an important drinking water source for thousands of people in Dampier, Karratha, Roebourne, Wickham and Point Samson.
Water Corporation today reminded those visiting the dam to do their bit to protect water quality by abiding by catchment protection signage.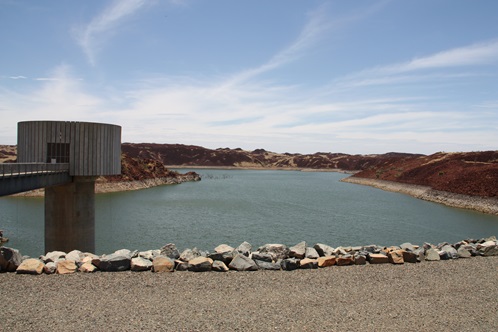 Water Corporation North West Regional Manager, Rino Trolio, said recreational activities such as fishing, swimming and camping were prohibited at the dam.
"Harding Dam is a drinking water source for the West Pilbara Water Supply Scheme, so it is crucial we all do our bit to keep it pristine," Mr Trolio said.
"There is a two kilometre reservoir protection zone around Harding Dam with fines of up to $5,000 for people found to be undertaking prohibited activities within it."
Mr Trolio said a member of the public in the South West recently received the largest fine ever imposed for catchment-related convictions under the Water Services Regulations 2013, after being ordered to pay a $3,000 fine plus court costs.
"Please use the purpose built recreational area at Harding Dam, which includes barbecues, toilets, gazebos and a lawn area. You can enjoy these facilities without impacting on water quality," Mr Trolio said.
Did you know?
Dampier, Karratha, Roebourne, Wickham and Point Samson receive a blend of water from Harding Dam and groundwater from the Bungaroo Borefield.

Harding Dam was built in 1984 and can store 64 billion litres of water. As at 4 August 2017 it was storing 57.6 billion litres of water or 90.2 per cent of capacity.
For more information and a map of the source protection area around Harding Dam, visit Water Corporation's website

watercorporation.com.au
---
Media Enquiries:
Contact: Sandy Hooft
Position: North West Region Communications Coordinator
Mobile: 0408 950 105