17 Aug 2017

|

Media Release
New water main improves reliability of Norsemans water supply
Water Corporation has completed work to replace 1.2 kilometres of water main to supply the town of Norseman, improving the reliability of water supply for the community.
Water Corporation Goldfields and Agricultural Regional Manager, Sharon Broad, said the new water main replaced an existing main, located within the Norseman Gold Mine site and was first installed in the 1960s.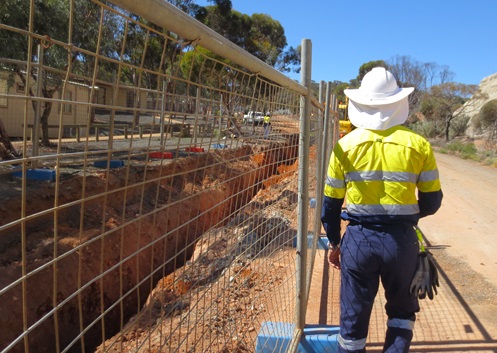 "The new main is located outside the mine site, along Phoenix Road, Staples Street and Mines Road," Mrs Broad said.
"The new main is connected to the Norseman service tank, which can store 128,000 litres of water. Water is then supplied from the tank to more than 300 properties in town.
"Thank you to the Norseman community for your patience while work was undertaken."
Norseman has formed part of the Goldfields and Agricultural Water Supply Scheme since 1935, when the scheme was extended by 163 kilometres from Coolgardie to cater for the expanded gold mining industry and growth in the town.
Water for the Goldfields and Agricultural Water Supply Scheme is supplied from Mundaring Weir in the Perth hills, which includes water sourced from dams, desalination and groundwater.
Work to install the new main began in February and was completed in July 2017. It was constructed by Perth-based construction company COBEY Industries with around 15 employees working onsite over the construction period, including subcontractors.
---
Media Enquiries:
Contact: Kathy Balt
Position: Goldfields and Agricultural Regional Engagement & Communications Officer
Mobile: 0428 944 746