11 Aug 2017

|

Media Release
Westfield Primary School in Camillo achieves waterwise status
Westfield Primary School in Camillo was recognised as Western Australia's 570th Waterwise School at a special assembly today.
With assistance from the Water Corporation's Waterwise Schools Program, teachers have been educating students about the need to value, protect and conserve our water sources.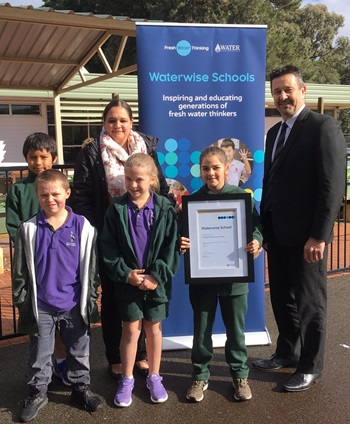 Water Corporation General Manager Customer and Community Group, David Juers, thanked the school for sharing the waterwise message.
"Congratulations to Westfield Primary School for becoming a Waterwise School," Mr Juers said.
"In our drying climate it is important the next generation is aware how precious water is, and the Waterwise Schools Program has been growing that awareness for the past two decades.
"An important part of ensuring our future water supply is by reducing the amount of water we all use and the Waterwise Schools Program gives students the knowledge they need to save water."
Westfield Primary School Principal, Steve Soames, said he was very pleased with Waterwise coordinator and teacher Louise Archibald at the school for her commitment in deciding to lead the project across the school.
"Understanding the importance of water is a vital part of education," Mr Soames said.
Now in its 22nd year, Water Corporation's Waterwise Schools Program takes a long-term approach to water education and behavioural change, and complements the curriculum across all major learning areas.
Further information about the Waterwise Schools Program is available from the Water Corporation's website at watercorporation.com.au
---
Media Enquiries:
Contact: Media team
Phone: (08) 9420 2555