01 Feb 2017

|

Media Release
Sprinkler roster reminder for communities across Goldfields and Wheatbelt
Did you know there are sprinkler rosters in place across Western Australia? Water Corporation has reminded communities across the Goldfields and Wheatbelt to check their sprinkler systems are set to the correct days.
Water Corporation Goldfields and Agricultural Regional Manager, Sharon Broad, explained how the sprinkler roster worked.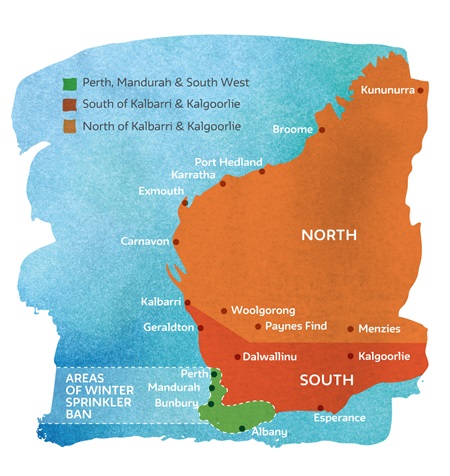 "Communities south of Kalbarri and Kalgoorlie are subject to a two-day-per-week sprinkler roster," Mrs Broad said.
"Your allocated watering day is based on the last digit of your house or lot number. If there is no house number, the lot number is used.
"Those north of Kalbarri and Kalgoorlie, such as Menzies, Laverton and Leonora, are subject to an alternate day roster. If the last digit of your house number is even, you can only water on even numbered days of the month or odd days of the month if your house number is odd."
The best way to check your rostered sprinkler day is to visit Water Corporation's website watercorporation.com.au/save-water/watering-days
Property owners receive a $100 fine if they are sighted breaching the sprinkler roster by an inspector, and a warning if they are reported by a member of the public.
If you witness anyone breaching the sprinkler roster, you can now report this online at watercorporation.com.au/breach
Those with a bore are able to use sprinkler systems on additional days.
If you have recently experienced a power outage, check your sprinkler system hasn't been reset to operate every day.
---
Media Enquiries:
Contact: Kathy Balt
Position: Regional Engagement and Communication Officer
Phone: (08) 9622 4808