07 Jul 2017

|

Media Release
Aboriginal art unveiled at Water Corporations Northam office for NAIDOC Week
Northam locals travelling down Fitzgerald Street will see new artwork taking pride of place at the front of Water Corporation's office, unveiled on Thursday as part of NAIDOC Week.
Three steel pipes were painted with a water theme by talented local Aboriginal artist, Kirk Garlett.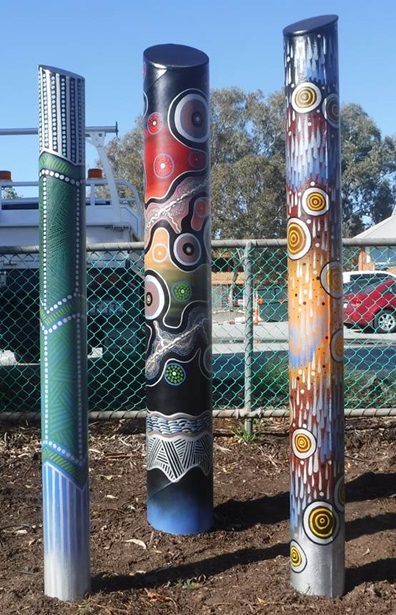 Water Corporation Goldfields and Agricultural Regional Manager, Sharon Broad, said she was thrilled with the new artwork.
"Of course, the artwork was always going to have a water theme given it is located at the front of our office, with the pipes depicting the story of water across our vast region," Mrs Broad said.
"The larger pipe represents the journey of our water from Mundaring Weir, all the way out to the Goldfields. The two smaller pipes depict water on the land and rainfall.
"At Water Corporation, we have a vision of a nation that recognises the culture and history of Aboriginal and Torres Strait Islander people, values their participation and provides equal life chances for all.
"This beautiful artwork shows our commitment to reconciliation and I am proud to have been able to unveil it to celebrate NAIDOC Week."
"Thank you to Kirk for his efforts and for coming along to see his artwork officially on show for the community."
NAIDOC Week celebrates Aboriginal and Torres Strait Islander history, culture and achievements, and recognises Aboriginal and Torres Strait Islander's contribution to our country and our society.
Water Corporation has a Reconciliation Action Plan and an Aboriginal Engagement Strategy to further develop relationships with the Aboriginal stakeholders in Western Australia. For more information about visit https://www.watercorporation.com.au/about-us/our-commitments/aboriginal-people-and-communities
---
Media Enquiries:
Contact: Kathy Balt
Position: Regional Engagement & Communications Officer
Mobile: 0428 944 746