06 Jun 2017

|

Media Release
Craigie resident Chris helps to save thousands of lives through blood donation
Saving lives is all in a day's work for Chris Le Juge De Segrais, who is Water Corporation's blood donation coordinator. Chris made her 100th blood donation recently, saving 300 lives – just in time for World Blood Donor Day on 14 June.
However, Chris's contribution is much more than that, having coordinated the Water Corporation blood donation team since 2011- she has helped save more than 9,021 lives.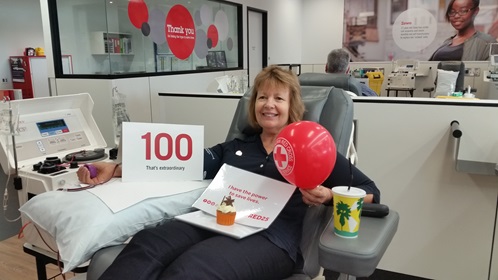 Chris's efforts have resulted in Water Corporation taking out the Red25 Corporate Category for the past six years and she is confident of another win in 2017.
"Donating blood as part of the Red25 movement is about team pride and the sense of unity you get from working together for something bigger than yourself," Chris said.
"Our work together as a team at Water Corporation has made a big difference to the lives of cancer patients, burns surgical and trauma patients, people with immune disorders and many others.
"One in three people will need blood in their lifetime; chances are they could be your workmate, neighbour or family member. I encourage anyone who is eligible to roll up your sleeves and save three lives by donating today."
Chris's efforts were also recognised by the Blood Service in 2013 and 2015, when she won Coordinator of the Year through the Red25 program.
To find out if you can donate, contact the Australian Red Cross Blood Service on 13 14 95 or go to www.donateblood.com.au
Water Corporation has won the Red Cross Red25 Corporate Category for the past six years, saving 9,021 lives

The Australian Red Cross Blood Service is one of Water Corporation's partners through its employee giving program, Wavemakers. This program allows employees to give back to the WA community.
---
Media Enquiries:
Contact: Media Team
Phone: (0*0 9420 2555