12 Jun 2017

|

Media Release
Kununurra puppy rescue mission ends in success for Sweetie
A Kununurra puppy named Sweetie had a lucky escape from the town's wastewater system, thanks to the rescue efforts of Water Corporation, IBAC Plumbing and the Shire of Wyndham-East Kimberley.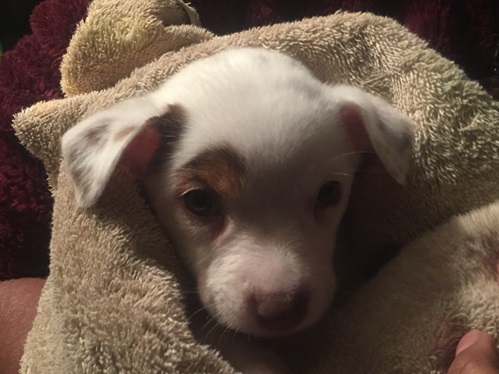 The seven-week-old puppy found her way into her home's internal plumbing through the overflow relief gully, usually located in the backyard.
When local business, IBAC Plumbing, realised Sweetie had made her way from the home's internal plumbing into the wastewater system, they phoned Water Corporation to assist.
Water Corporation Regional Manager North West, Rino Trolio, said IBAC Plumbing's specialised equipment, ordinarily used to perform inspections of pipes, was lowered into the wastewater system to locate the entrapped puppy.
"The crew ingeniously used the lights on the inspection equipment to guide Sweetie through more than 40 metres of pipe, to an access chamber. Our crew then safely rescued her from the wastewater system," Mr Trolio said.
"The remote controlled equipment was even used to give Sweetie a physical steer in the right direction towards the end of the rescue."
Mr Trolio said the rescue team's efforts resulted in a positive outcome on this occasion, however he urged the community to be mindful of the overflow relief gully at their home.
"This is a lovely story, however it could have so easily ended in tragedy for Sweetie, so I encourage everyone to make sure the cover of the overflow relief gully at your properly is in place," Mr Trolio said.
For more information about maintaining your overflow relief gully, visit Water Corporation's website watercorporation.com.au
---
Media Enquiries:
Contact: Sandy Hooft
Position: Water Corporation North West Regional Engagement and Communications Officer
Phone: (08) 9186 8266