23 Jun 2017

|

Media Release
New limestone track to prevent dieback in Meelup Regional Park
Water Corporation has constructed a new limestone access track into Meelup Regional Park to help control the spread of Phytophthora dieback.
Phytophthora dieback is an introduced plant disease, which feeds on roots of the host plant, killing up to 40 per cent of all native plants. The movement of infected soil, plant material or water containing dieback spores spreads the disease.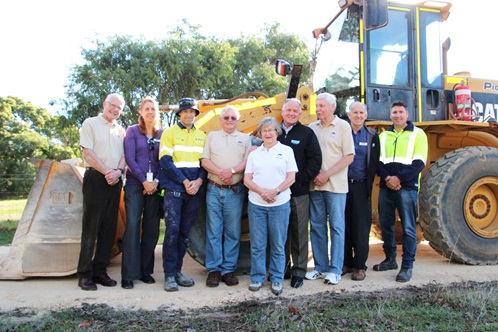 Water Corporation South West Regional Manager, John Janssen, said the track was constructed as employees use the track to read water meters and access the Eagle Bay water supply tank.
"We worked with the City of Busselton and Meelup Regional Park Committee to develop the new one-kilometre access track, which helps stop the spread of dieback," Mr Janssen said.
"Previously, it was just a cleared bush-track through the Park. By applying limestone to the track we will help to prevent the spread of dieback.
"Although Water Corporation doesn't own the access track, we appreciate the importance of preserving the Meelup Regional Park and upgrading the access track, provides an opportunity for us to help protect this special area."
City of Busselton Councillors and Meelup Regional Park Committee members, John McCallum and Terry Best, applauded the Water Corporation for taking such a proactive approach to this important environmental issue.
"This partnership project with the Water Corporation will implement best practice dieback management measures to protect the most intact section of bushland in the Park from the spread of dieback," Cr McCallum said.
"The City appreciates Water Corporation's input in sheeting the one kilometre vehicle access track with limestone to protect the significant conservation values within Meelup Regional Park."
The construction of the limestone track was completed over one week in early June 2017.
---
Media Enquiries:
Contact: Tony Snelling or Lauren Lane
Phone: P: (08) 9725 5148