02 Jun 2017

|

Media Release
Water recycling provides sustainable irrigation for new trees
Water Corporation today planted the first of 170,000 Blue Gum seedlings at one of its recycled water tree farms in Albany, to replenish 120 hectares of trees harvested last year.
Wastewater from households and businesses in Albany is treated and then recycled to irrigate two tree farms. They cover around 700 hectares of land and provide a sustainable, environmentally friendly way to reuse 100 per cent of Albany's wastewater.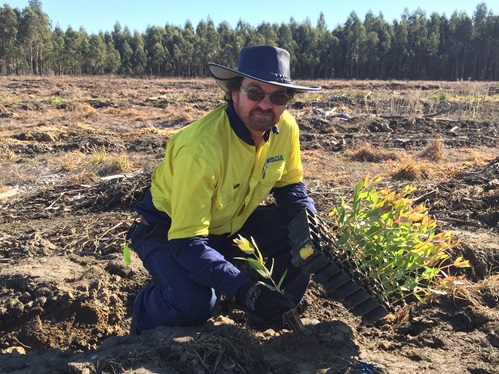 Water Corporation Great Southern Regional Manager, Adrian Stewart, said recycling the water to irrigate the tree farms provided an environmentally sustainable disposal option that had the added benefit of timber production and carbon capture.
"Today we planted the first seedling to replenish our recycled water Blue Gum tree farm – with 143,000 seedlings sourced from Australian Bluegum Plantations and 27,000 from Southern Rush 353 Nursery – both local Albany businesses," Mr Stewart said.
"This planting marks the start of a 10-year cycle, where the Blue Gums are irrigated with recycled water, grown to size then harvested for woodchips.
"Another significant benefit is that over its lifecycle, the two tree farms capture around 70,000 tonnes of carbon from the atmosphere – doing their bit to mitigate climate change.
"We also use the expertise of local contractors to carry out work such as harvesting, stump grinding and tree planting – providing a boost to the local economy."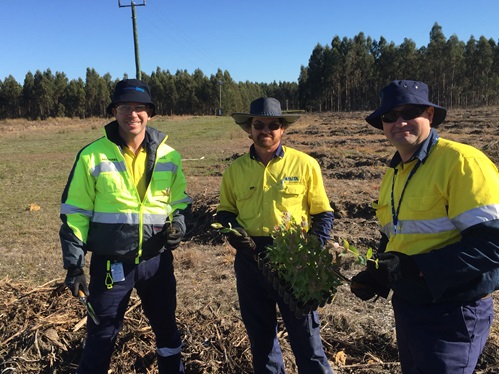 Water Corporation has two active tree farms in Albany, plus a third 200 hectare property that can be developed when wastewater flows increase with future growth.
Albany's tree farms, the first of which was developed in the early 1990s, successfully demonstrate the value of wastewater as a natural resource that can benefit our overall environment.
For more information visit Water Corporation's website watercorporation.com.au
---
Media Enquiries:
Contact: Kate Duff
Position: Regional Engagement and Communications
Phone: (08) 9842 4252