30 May 2017

|

Media Release
Major milestone reached in Woodman Point Wastewater Treatment Plant upgrade
Water Corporation's upgrade to its Woodman Point Wastewater Treatment Plant reached a major milestone last Tuesday, with the first major concrete pour of 360 cubic metres.
In Water Corporation language, that's the equivalent of 360,000 litres of water – which is more than the average Perth household uses in one year.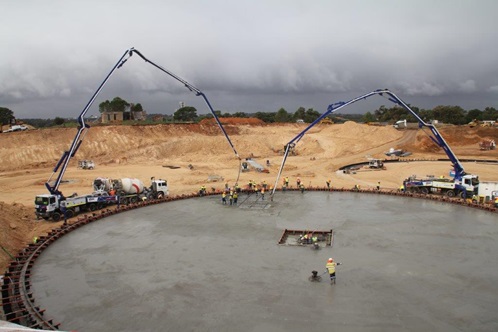 Water Corporation General Manager Asset Delivery, Mark Leathersich, said Henderson based company Civmec carried out the work as part of its joint venture with Black and Veatch Australia, forming the WP180 Alliance.
"Around 60 locally sourced trucks poured the concrete over an eight hour period on Tuesday, marking a major milestone in the project to upgrade the Woodman Point Wastewater Treatment Plant," Mr Leathersich said.
"The concrete will form the base of one of eight tanks being built at the plant. Each of these tanks will have the capacity of 11 million litres and will be 50 metres in diameter and six metres high.
"The tanks are Secondary Sedimentation Tanks and are a vital part of the wastewater treatment process. The tanks are where treated wastewater undergoes further settlement and clarification, which then produces final treated wastewater.
"We are pleased to work with our locally based contractor on the upgrade, with about 200 jobs being created when construction is at its peak."
The Woodman Point Wastewater Treatment Plant is the largest plant in Western Australia. Water Corporation is upgrading the plant's capacity to 180 million litres a day to cater for future growth in the region.
When the upgrade is completed in late 2019, the plant will treat wastewater from 900,000 people who live south of the Swan River.
For more information about the upgrade, visit Water Corporation's website watercorporation.com.au
---
Media Enquiries:
Contact: Media Team
Phone: (08) 9420 2555