03 Nov 2017

|

Media Release
South West students and artists combine to make a splash of colour
Students and artists are taking their talents to the streets, turning public infrastructure into canvasses as part of the Water Corporation's art program Splash of Colour.
The program aims to spark the community's imagination by bringing Water Corporation assets across Australind, Bunbury, Busselton and Dunsborough to life through water and environmentally themed artwork.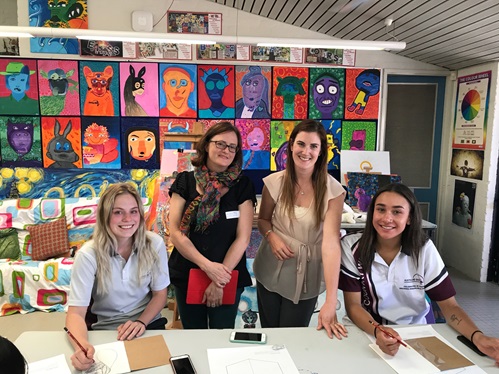 Water Corporation South West Regional Manager Nicky Waite said eight professional artists, both local and from across the State had been engaged to produce the artwork.
"The artists are now running workshops with local high school students to gain inspiration and develop the concepts for their designs, which will then be painted on local wastewater pump stations and other assets," Ms Waite said.
The first of three workshops was held today at Australind Senior High School, with further workshops being held next week with Bunbury Catholic College, Busselton Senior High School and Cape Naturalist College.
Ms Waite said Water Corporation was keen to work with students and community to ensure the artwork represented local culture and reflected the beauty of the region.
"We had a great response when we commissioned a mural on our wastewater pump station in Withers, so we wanted to expand throughout the region and bring these buildings to life."
"We understand some of our assets are highly visible and we are excited to work with students to turn them into bright and vibrant pieces of public art we can all enjoy."
"The program will complement the work local Councils have undertaken in recent years to transform public spaces."
Keep up to date on social media using #splashofcolourWA.
---
Media Enquiries:
Contact: Lauren Lane / Tony Snelling
Position: Water Corporation Senior Advisor Community and Stakeholder
Phone: (08) 9725 5148