18 Oct 2017

|

Media Release
Coolbellup Community School celebrates a decade of waterwise education during National Water Week
Coolbellup Community School celebrated 10 years enrolled in Water Corporation's Waterwise Schools Program at a special assembly today as part of National Water Week.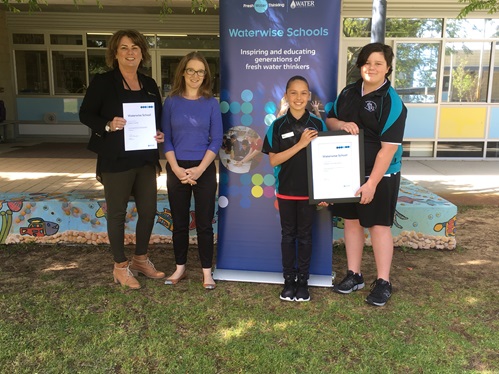 This year's theme for National Water Week is Water – the Heart of our Culture, which is something Coolbellup Community School teachers have instilled in students over the past decade.
Water Corporation General Manager Customer and Community Group, Catherine Ferrari, thanked the school for sharing the waterwise message.
"Over the last 10 years Perth's water supply has been impacted by climate change, making it even more important our next generation learn about where their water comes from," Ms Ferrari said.
"Coolbellup Primary School joined the Waterwise Schools Program the year we first started drinking desalinated seawater in Perth – now, desalination provides about half of the city's water.
"This illustrates how water is at the heart of our culture here in Perth, as we fully understand the need to have a reliable, secure water supply – despite a 19 per cent reduction in rainfall since the 1970s.
"Thank you to students and teachers at Coolbellup Community School for your dedication to the program."
Coolbellup Community School's Deputy Principal, Caroline Churchill, said the school aimed to raise an awareness of water conservation and management.
"The Waterwise Schools Program engages the students into a greater understanding of water in the environment and how water is vital to a sustainable future," Mrs Churchill said.
Coolbellup Community School celebrated National Water Week with a number of classroom activities for the 280 students who attend the school. Waterwise tips are featured around the school grounds, with a display of water themed books in the library throughout Term 4.
Find out more about the Waterwise Schools Program.
Did you know?
There are 570 Waterwise Schools across Western Australia.

Now in its 22nd year, the Waterwise Schools Program takes a long-term approach to water education and behavioural change, and complements the curriculum across all major learning areas.
---
Media Enquiries:
Contact: Media Team
Phone: (08) 9420 2555