02 Aug 2021

|

Media Release
Albany student supported through Water Corporation scholarship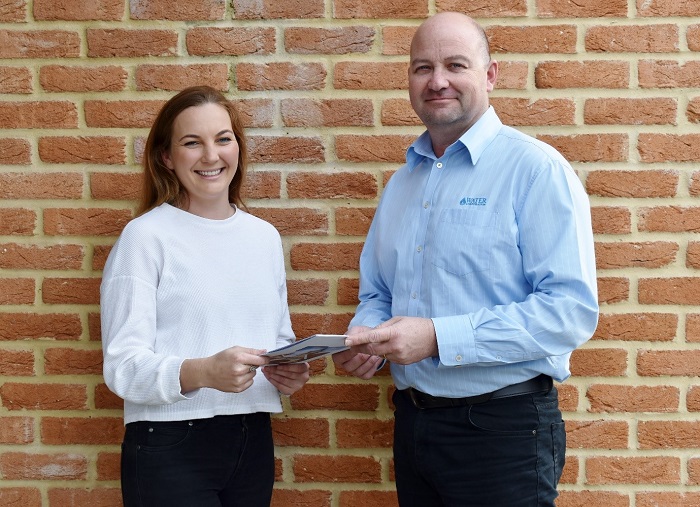 UWA student Holly Timperley with Water Corporation Great Southern Regional Manager Adrian Stewart
Water Corporation has awarded Albany student Holly Timperley a special scholarship in support of mature-aged students pursuing a university degree in a water-related field.
The $2,500 scholarship was awarded to Ms Timperley, who is studying a Bachelor of Science majoring in Conservation Biology and Zoology, at a recent ceremony at the University of Western Australia's (UWA) Albany campus.
Water Corporation Great Southern Regional Manager Adrian Stewart said the scholarship was offered since 2001 to assist students aged 20 years or older with tertiary studies in a water-related field.
"We're proud to support a scholarship program which encourages regional participation in higher education, while providing practical support to ease the associated financial burdens," Mr Stewart said.
"I am really pleased to award the 2021 scholarship to Holly Timperley as it's important to encourage people with local knowledge and passion for the region to study and pursue a career here."
Based near Wellstead, Ms Timperley said she would use the scholarship to stay in Albany a couple of nights a week during semester to save on the 1.5-hour commute and make studying easier.
"I was very excited and surprised to be awarded the scholarship. I was hesitant about giving up full-time work to go back to university so the scholarship will be very helpful," she said.
"I have always loved working with animals and learning about the ways different systems interact with each other including soil and water and the effects this can have on agriculture or native flora. When I found out the course was offered in Albany, I thought it would be perfect for me."
In her first year of tertiary study, the former Kearnan College Manjimup student said she was excited for what the future holds.
"I hope to find a career that I am passionate about doing every day, and hope to work hands-on and have the opportunity to learn new things constantly," she said.
Media contact:
Natalie Nazzari
Senior Advisor - Customer & Stakeholder
P: (08) 9842 4252
E: Natalie.Nazzari@watercorporation.com.au
Follow us on Twitter @watercorpwa