04 Aug 2021

|

Media Release
Waterwise greening opportunities on offer for local governments and property owners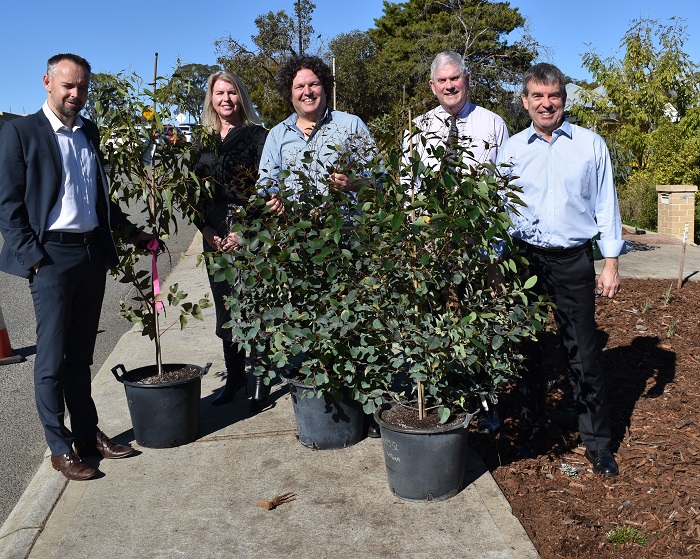 (L-R): Manager Metro South Development WA Matt Read, Water Corporation General Manager Customer and Community Karen Willis, Josh Byrne, City of Cockburn Mayor Logan Howlett, Water Minister Dave Kelly.
Waterwise local governments can receive up to $10,000 in co-funding for community greening activities

More than 83,000 waterwise plants funded since 2019

New demonstration verges and step-by-step guidelines created to inspire residents
Water Minister Dave Kelly is encouraging local governments and residents to take advantage of Water Corporation's Waterwise Greening Scheme to help create cooler, greener suburbs.
The scheme, delivered by the McGowan Government, through Water Corporation, allows local governments to apply for up to $10,000 in co-funding annually to support waterwise greening initiatives in local communities.
Initiatives include complimentary and subsidised plants for ratepayers, verge programs, trees, gardening workshops, competitions, and demonstration gardens.
To be eligible, local governments in metropolitan and regional Western Australia are required to be a Waterwise Council and have an approved waterwise verge policy.
Since 2019, the scheme has co-funded 83,000 waterwise plants, 1,145 waterwise trees, 425 verge transformations, six demonstration gardens and six garden workshops across WA communities.
To encourage greater uptake of waterwise verge transformations, Water Corporation has partnered with Development WA, City of Cockburn and landscape architect Josh Byrne and Associates, to develop a waterwise demonstration streetscape and how-to guide at the OneOneFive Hamilton Hill development.
Seven verges neighbouring the development are being transformed into demonstration verges which include a step-by-step guide showing residents how to create their own waterwise verges.
Once completed, it is hoped all local governments will explore similar projects to support biodiversity and create cooler, greener suburbs on a much larger scale.
To find out more about the Waterwise Greening Scheme, visit Water Corporation's website. For further information on the waterwise demonstration streetscape project and step-by-step guidelines visit the Development WA website.
Comments attributed to Water Minister Dave Kelly:
"Climate change is continuing to have a real impact on biodiversity and urban heat across our suburbs, so adapting gardens and verges to be more waterwise is one way we can help provide habitats for local flora and fauna.
"The McGowan Government has supported waterwise greening initiatives since 2017, with more than 800 waterwise verges transformed to date.
"By making it easier for residents to access waterwise plants through their local government and developing step-by-step guides for waterwise verge implementation, it's easier than ever for people to develop a waterwise verge of their own."
Minister's office - 6552 6100