10 Dec 2021

|

Media Release
Busselton students and local artist partner to create striking new artwork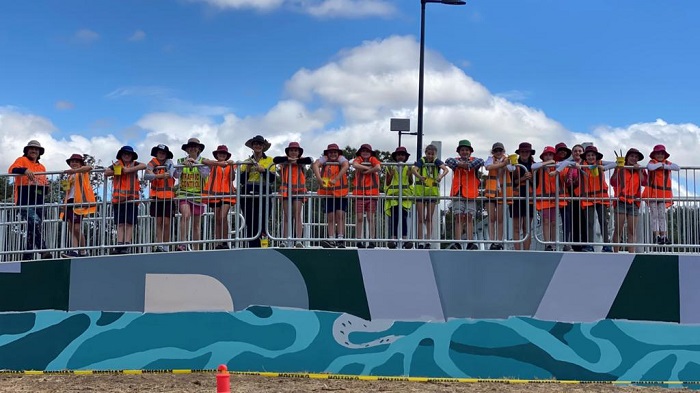 Student artists from Mackillop Catholic College in Busselton have teamed with local artist Andrew Frazer and Water Corporation to transform part of the new Vasse Diversion Drain into a vibrant public mural.
As part of Water Corporation's Splash of Colour program, Year 6 students recently took part in a design workshop with Mr Frazer where they learnt new design techniques and explored water as a theme.
Students also had a hand in painting the 45m long mural on the Water Corporation site along College Avenue, Busselton.
Mr Frazer said the final design was inspired by the theme 'Preserve and Conserve' and reflected how excess water was redirected via the diversion drain to protect surrounding homes.
"The theme is designed to prompt curiosity around the diversion drain and its purpose," he said.
"These forms, textures and composition were further informed and inspired by the students."
Water Corporation South West Regional Manager Nicky Waite said the Splash of Colour program sought to improve the amenity of water infrastructure to benefit the community.
"It was wonderful to work hands on with students and see them create a connection with our assets," Ms Waite said.
"Thanks to the efforts of the students and Andrew, we have been able to turn a dull concrete wall into a vibrant artwork to be enjoyed by the school and wider community.
"The Vasse Diversion Drain upgrade was an important local project which enhances flood community flood protection. It's wonderful to put the finishing touches on the project in such a colourful and collaborative way."
Information on the Splash of Colour can be found by visiting the Water Corporation website at www.watercorporation.com.au. Alternatively, you can track the progress on social media via #splashofcolourWA.
Media contact:
Janine Stewart
Senior Advisor - Customer & Stakeholder
P: (08) 9791 0412
E: janine.stewart@watercorporation.com.au
Follow us on Twitter @watercorpwa