25 Jan 2021

|

Media Release
Beautiful birdlife mural unwraps $2.5m dam recreational upgrades program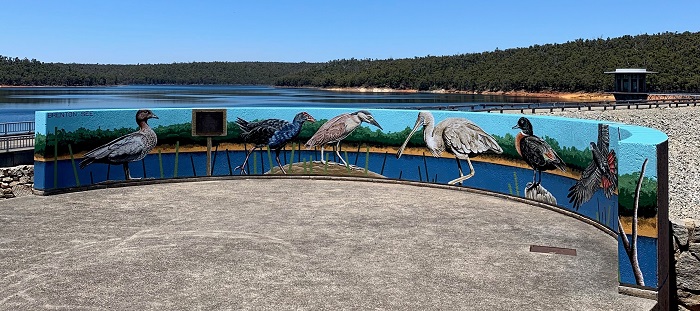 New 13-metre artwork by muralist Brenton See created at Wungong Dam
Four metropolitan dam recreation areas to be upgraded with new amenities
Nature playgrounds at Churchman Brook and Serpentine Main dams
Water story and significance to Aboriginal people told through interpretative signage
A stunning new birdlife mural at Wungong Dam starts a major upgrade program at some of Water Corporation's popular Perth dam recreational areas, announced today by Water Minister Dave Kelly.
The McGowan Government will invest an initial $2.5 million in the two-year program, which will include new nature playgrounds, Aboriginal interpretative signage and improved amenities to enhance the visitor experience.
Work has already commenced at Churchman Brook with upgrades to Serpentine Main, Canning and Mundaring dams due to be completed by late this year.
Fremantle-based artist Brenton See spent time at Wungong Dam gathering inspiration from local birdlife for his 13-metre wide mural on a lookout popular with birdwatchers.
The colourful artwork features the Australian Wood Duck, Red-tailed Black Cockatoo, Nankeen Night Heron, Yellow-billed Spoonbill, Australian Shelduck, Australasian Swamphen and Sacred Kingfisher.
Comments attributed to Water Minister Dave Kelly:
"Several thousand people visit Water Corporation's Perth dams every week taking advantage of the beautiful scenery, walking trails and picnic areas.
"Many visitors won't know that the role of the dams has changed significantly over the years.
"Climate change has seen a huge reduction in rainfall run-off from their catchment areas, so many are now primarily used as storage for desalinated water, which can then be used to meet peak demand over summer.
"Brenton See's colourful mural is a fantastic addition to Wungong Dam, reflecting the diverse local birdlife, and a brilliant way to kick off the initial $2.5 million investment in the dam recreation areas.
"An important focus of the upgrades will be telling the water story and the significance of the dam sites to Aboriginal people, reflecting the connection to their community and environment.
"I commend Water Corporation for this work to further enhance the appeal of its dam sites, while making them more accessible for all."
Minister's office - 6552 6100