04 Jan 2021

|

Media Release
Water Corporation update on Albany to Denmark pipeline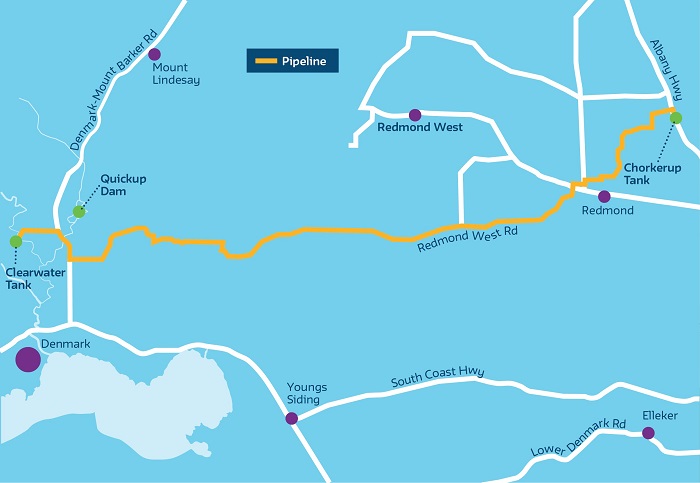 Water Corporation is progressing work to complete construction of the Albany to Denmark pipeline in early 2021.
Over 42 kilometres of pipeline has been installed since July 2020, with 500 metres left to install along Denmark-Mount Barker Road in January 2021.
As part of final testing to ensure the pipeline is ready for use, we have identified several leaks in sections of the pipeline. Water Corporation and its contractors are working to resolve this issue and will continue to keep impacted landowners and agencies updated as work progresses.
The new pipeline will connect Denmark to the Lower Great Southern Towns Water Supply Scheme (LGSTWSS), which also supplies drinking water to Albany, Mount Barker, Kendenup and Narrikup.
This will allow Water Corporation to alternate the supply of drinking water throughout the year, from either the LGSTWSS or Quickup Dam, providing water security to Denmark.
There is sufficient water in Quickup Dam to continue to supply water to Denmark for the foreseeable future. It is unlikely that more stringent water restrictions would be required this summer.
Contractual arrangements are such that the contractor or supplier will meet the costs of any additional work, if required.
Water Corporation would like to thank the local community, impacted landowners and contractors for their ongoing cooperation and assistance during this essential work.
Further updates will be posted on the Denmark pipeline homepage:
https://yoursay.watercorporation.com.au/waterwisedenmark
Media contact:
Water Corporation media team (24/7)
P: (08) 9420 2555