15 Jul 2021

|

Media Release
Local projects given a helping hand through Water Corporation's Kimberley Community Grants Scheme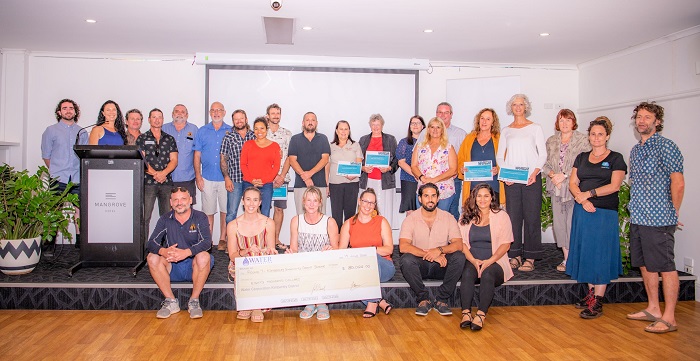 Water Corporation has announced fifteen Kimberley not-for-profit groups will share in $80,000 as part of Round 7 of Water Corporation's Kimberley Community Grants Scheme.
Delivered in partnership with the Lions Club of Broome, the scheme helps fund projects which contribute to the fabric of everyday life in Kimberley communities.
Among this year's recipients are local schools, animal rescue groups, Aboriginal corporations, a volunteer sea rescue group and local speedway and equestrian clubs.
A range of local projects will be supported, including community and bushfoods gardens, solar lighting at the Kununurra Agricultural Society, and a kangaroo release shelter at Derby Native Wildlife Rescue.
Water Corporation North West Regional Manager Sharon Broad said the program aimed to help local projects get off the ground.
"We're really proud of this program as it supports local organisations to implement project ideas that make a difference to their community," Ms Broad said.
"Thanks to the funding provided under Round 7, support will be extended to students, wildlife rescue operators, sea rescue groups, sporting clubs, Aboriginal corporations and a range of other organisations.
"It's one of the many ways Water Corporation works to give back to those who help create a more inclusive and innovative community."
The Kimberley Community Grants Scheme is funded through the sale of Rhodes grass hay produced at Water Corporation's Broome North Water Resource Recovery Facility.
Since 2016, the scheme has awarded more than $445,000 to 80 grassroots organisations for projects that make a positive difference to communities across the region.
For more information about the Kimberley Community Grants Scheme, visit www.watercorporation.com.au/kcgrants.
-ends-
Media Enquiries
Kate Duff
P: (08) 9186 8266
E: Kate.Duff@watercorporation.com.au
Follow us on Twitter @watercorpwa