13 May 2021

|

Media Release
Albany households encouraged to make the switch to water efficient showerheads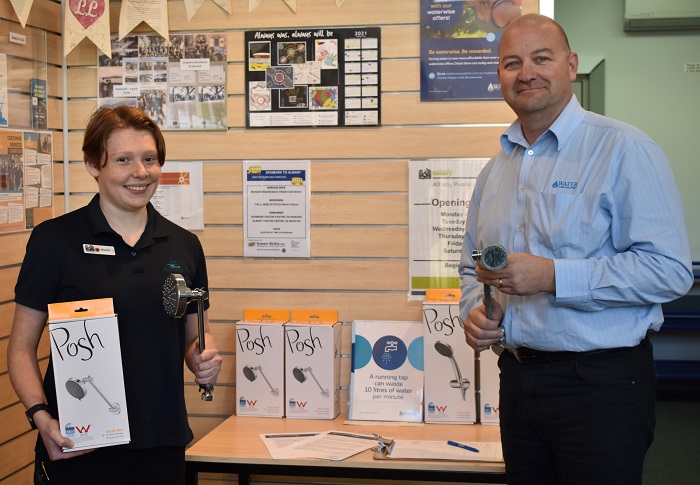 Picture caption: Albany Public Library Officer Maddi Murray with Water Corporation Great Southern Regional Manager Adrian Stewart
Albany households are being encouraged to help save more water in the shower by taking advantage of Water Corporation's free Showerhead Swap program before the offer ends.
The waterwise program offers residents the opportunity to exchange up to two old showerheads for new water efficient models until the end of May.
Water Corporation Great Southern Region Manager Adrian Stewart thanked those who continue to do their bit to help save water and encouraged others to take advantage of the free program.
"Since October 2020, 378 households have swapped 626 inefficient showerheads for new water-efficient ones in Albany, saving approximately 7.5 million litres of water per year – that's equivalent to almost three and a half Olympic swimming pools," Mr Stewart said.
"Showers make up 22 per cent of total household water use. By simply switching to water efficient showerheads, households can save up to 20,000 litres of water each year.
"Thank you to everyone who has made the switch to more water efficient showerheads to help reduce their household water use. If you haven't swapped your old showerhead already, I encourage you to do so before the offer ends."
To take advantage of the free program, simply bring a recent Water Corporation waterwise letter or Water Corporation bill with your old showerheads to the City of Albany Library, 221 York Street, Albany.
The offer is available until 31 May 2021, or until stocks last.
For more information, visit Water Corporation's website at www.watercorporation.com.au/Waterwise/Waterwise-offers/Showerhead-swap
Media contact:

Natalie Nazzari
Senior Advisor - Customer & Stakeholder
P: (08) 9842 4252
E: Natalie.Nazzari@watercorporation.com.au

Follow us on Twitter @watercorpwa
Note:
Showerheads featured in the photo:
- new showerhead: 4-star WELS rated (water efficiency) Posh Solus (7.5 litres/minute)
- old showerhead: 3-star WELS rated Bermuda (9.0 litres/minute)