19 Oct 2021

|

Media Release
Free waterwise offers available to South-West communities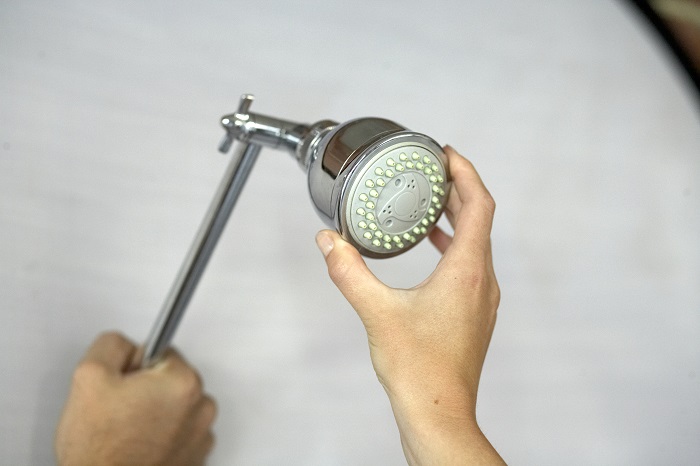 Twelve South-West communities included in 2021-22 Waterwise Towns program

Rainwater tank rebate and Showerhead Swap among the available offers

Program saved 43.9 million litres of water in the region in 2020-21
South-West residents can now claim a rainwater tank rebate and swap inefficient showerheads for waterwise alternatives thanks to Water Corporation's 2021-22 Waterwise Towns program, launched during National Water Week.
Households in Balingup, Bridgetown, Boyup Brook, Donnybrook, Greenbushes, Hester, Kirup, Manjimup, Mullalyup, Nannup, Northcliffe and Pemberton can apply for the offers to support regional households to reduce water use.
Up to 20,000 litres of water can be saved per household per year by switching to a water-efficient showerhead. In 2020-21, 124 South-West households swapped 166 showerheads saving an impressive 2.5 million litres of water.
Residents interested in purchasing a new rainwater tank or replacing an existing tank of 2,000 litres or more can apply for a rebate of up to $1,000. Those interested in plumbing in an existing tank are also eligible for a rebate.
Last year, South-West residents saved 43.9 million litres of water as part of the Waterwise Towns program, with a fantastic response from the residents in Bridgetown and Manjimup who participated in the comparative water use letter campaign saving 35.8 million litres of water.
The letters provide water-saving tips and advice, and compare water use amongst other households to encourage a community-wide approach to saving water.
This year, letters will be sent to Donnybrook residents who can also apply for a free irrigation and free plumbing service, supporting households to set up irrigation systems correctly, check for broken sprinklers, identify leaks, and replace inefficient plumbing fixtures and fittings.
Since 2013-14, the State-wide program has saved an estimated 1.58 billion litres of precious water - equivalent to 702 Olympic-sized swimming pools.
Offers are available until May 31, 2022 and residents are invited to visit http://www.watercorporation.com.au/waterwiseoffers for more information.
Comments attributed to Water Minister Dave Kelly:
"The McGowan Government is committed to supporting regional Western Australians to reduce water use and save money through the Waterwise Towns program.
"While heavy rainfall in the region over winter has been welcomed, we know this was an anomaly against the long-term trends and the South-West remains one of the areas most impacted by climate change anywhere in the world.
"To help combat this, small changes to daily habits can help make a difference. By upgrading to water-efficient showerheads, plumbing in a rainwater tank, or making small waterwise changes in the home, residents can save tens of thousands of litres of water, and help protect our most precious resource.
"A rainwater tank plumbed into a home can help save up to 20 per cent of average household water use each year. With the South-West receiving higher rainfall on average compared to the rest of the State, rainwater tanks can be a cost-effective solution for residents.
"This National Water Week I'd like to encourage residents in participating South-West towns to take advantage of available offers and embrace a waterwise lifestyle."
Comments attributed to Warren-Blackwood MLA Jane Kelsbie:
"The Waterwise Towns program is a fantastic initiative and I'm thrilled local residents will benefit from the rainwater tank rebate and showerhead swap.
"Water-saving measures are something we can all implement in our day-to-day lives to help ensure a sustainable future for the South-West.
"The rainwater tank rebate allows residents to capitalise on the region's rainfall and a small thing like swapping your showerhead can help save millions of litres of water, not to mention the savings it will provide on your water bill.
"A community-wide approach can make a big difference when it comes to reducing water use. I would love to see our communities get behind this campaign."
Comments attributed to Collie-Preston MLA Jodie Hanns:
"It's great that residents will have the opportunity to save money on their water bills and help the environment.
"Our water is precious, and any opportunity to look after our most valuable resource is so important."
Minister's office - 6552 6100
South-West participants in the 2021-22 Waterwise Towns program:
| | |
| --- | --- |
| Town | Offers |
| Balingup | Showerhead Swap, rainwater tank rebate |
| Bridgetown | Showerhead Swap, rainwater tank rebate |
| Boyup Brook | Showerhead Swap, rainwater tank rebate |
| Donnybrook | Showerhead Swap, rainwater tank rebate, plumbing service, irrigation service, comparative water use letters |
| Greenbushes | Showerhead Swap, rainwater tank rebate |
| Hester | Showerhead Swap, rainwater tank rebate |
| Kirup | Showerhead Swap, rainwater tank rebate |
| Manjimup | Showerhead Swap, rainwater tank rebate |
| Mullalyup | Showerhead Swap, rainwater tank rebate |
| Nannup | Showerhead Swap, rainwater tank rebate |
| Northcliffe | Showerhead Swap, rainwater tank rebate |
| Pemberton | Showerhead Swap, rainwater tank rebate |