19 Oct 2021

|

Media Release
New immersive experience helping deliver waterwise message to record students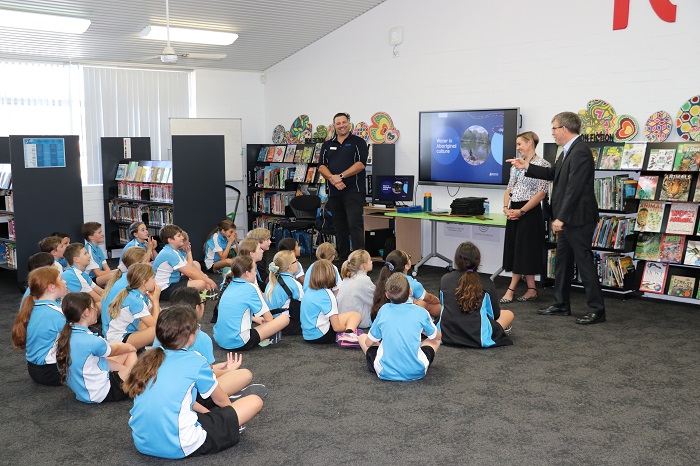 New Waterwise Experience boosting students' water knowledge across the State

Nine Waterwise Schools Program events for National Water Week (October 18-24)

Curriculum-based learning focuses on WA's unique water cycle, sustainability, and water in Aboriginal culture

Supports Waterwise Perth Action Plan for a more sustainable water future
New multi-sensory experiences are helping create a new generation of water-saving champions with a record 32,809 students participating in Water Corporation's Waterwise Schools Program in 2020-21.
Announced today by Water Minister Dave Kelly during National Water Week (18-24 October), the new Waterwise Experience is an interactive, multi-sensory incursion on water sustainability targeted towards high-school students.
Using silent disco technology, it immerses students in engaging audio-led narratives to find out about the need to value, protect and conserve precious water.
For more than 25 years, the award-winning Waterwise Schools Program has adopted a long-term approach to water education and behavioural change, particularly complementing STEM subjects - science, technology, engineering and maths.
Its curriculum-based learning opportunities focus on Western Australia's unique water cycle, sustainability, and water in Aboriginal culture.
To align with this year's National Water Week theme of 'Caring for water and Country', students from five schools across Perth, including Sorrento, Belmont, St Stephen's, Lesmurdie, and Applecross primary schools, will this week experience a sensory journey through Noongar boodja (Noongar country) to learn about Aboriginal people's custodianship of WA's water systems for more than 60,000 years, as part of the program.
The enhanced Waterwise Schools Program aims to reach 50,000 students a year by 2030 to deliver on the McGowan Government's Waterwise Perth Action Plan. The plan sets the direction for transitioning Perth to a leading waterwise city by 2030.
Further information on the Waterwise Schools Program is available on the Water Corporation website: http://www.watercorporation.com.au/education
Comments attributed to Water Minister Dave Kelly:
"National Water Week is an opportunity for everyone to reflect on their own water use, so it was great seeing the students at Sorrento Primary School today embracing the waterwise message, as they learnt about Aboriginal water management and conservation practices dating back 60,000 years.
"With climate change having a significant impact on our precious water sources, it's never been more important to equip our young people with the knowledge and skills to ensure we have a sustainable water future.
"I commend Water Corporation's education team for empowering a record 32,809 students in the past year to help develop a new generation of sustainability ambassadors."
Comments attributed to Education and Training Minister Sue Ellery:
"Since 1995, the Waterwise Schools Program has introduced children to the waterwise message and helped them develop waterwise behaviours that hopefully last a lifetime.
"The record participation in the past year is testament to the success of the initiative that complements the curriculum across all major learning areas, particularly STEM subjects.
"The new Waterwise Experience's innovative use of silent disco technology brings the waterwise narrative to life and encourages students to consider the true value of water in their daily lives.
"Across the State, there are 589 recognised Waterwise Schools in the Waterwise Schools Program, and over 1,300 students participating in programs this National Water Week."
Water Minister's office - 6552 6100
Education and Training Minister's office - 6552 5700
Waterwise Schools Program fact file
Water Corporation's Waterwise Schools Program takes a long-term approach to water education and behavioural change, educating students, their families, and the wider community about the need to value, protect and conserve our water resources.

Supporting primary and secondary schools since 1995, it provides free curriculum-linked teaching resources, hands-on activities, school incursions and tours of water and water resource recovery facilities.

It complements the curriculum across all major learning areas, particularly STEM (science, technology, engineering and maths) subjects.

Hillarys Primary School was the first to be recognised as a Waterwise School and there are now 589 waterwise schools, representing more than 55 per cent of schools across the State.

Since 2007, over 300,000 WA school children have participated in the program.

In 2018, Water Corporation's leak-detecting dog, Kep, was introduced to new Waterwise School assemblies to spread the water conservation message.