21 Oct 2021

|

Media Release
State Government helping public housing tenants reduce water use and lower water bills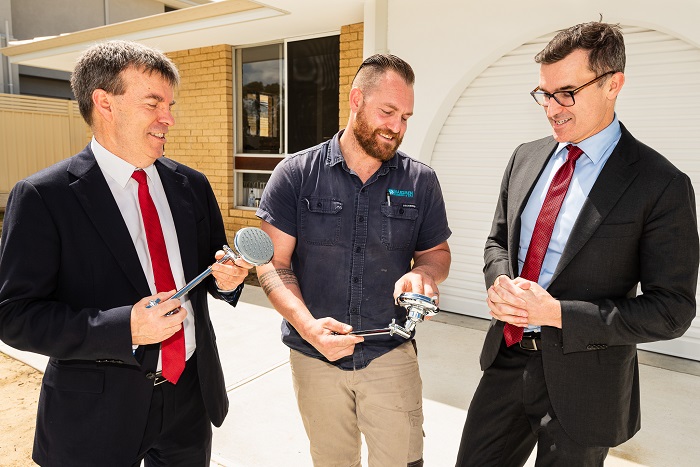 Up to $26 million to extend water-saving support to more vulnerable Western Australians

Project to benefit a further 10,000 public housing tenants and families, reducing water use and lowering bills

More than 210 housing services officers upskilled with waterwise training

Pilot program saw household water use fall an average 27 per cent
Public housing tenants will be supported to reduce household water use and lower their water bills under an expansion of the McGowan Government's Waterwise Public Housing Project, announced today.
The five-year expansion of a successful pilot program, a partnership between Water Corporation and the Department of Communities, will see around 10,000 Government owned properties retrofitted with water-efficient fixtures, such as showerheads, toilets and taps.
In total, the project aims to save 4 billion litres of water and reduce household water bills for public housing tenants by an average $66 to $145 each year (before concessions).
On completion of the five year project, all Department of Communities public housing properties will be fitted with water efficient fixtures.
Up to $26 million has been allocated for the expanded program, helping fulfil a McGowan Government commitment that no public housing tenant in Western Australia should receive higher water bills due to leaking or inefficient plumbing.
To assist tenants in reducing their water use, more than 210 Department of Communities housing services officers have completed waterwise training with Water Corporation.
Training equips officers with the skills and knowledge to help tenants make waterwise changes to their daily lives, and a further 250 officers will be upskilled under the expanded project.
The Waterwise Public Housing Project began as a pilot in 2019. During the pilot program, nearly 1,000 water audits were carried out at high water use public housing properties, with 620 receiving leak repairs and 735 receiving water efficient fixtures.
Through the pilot, more than 142 million litres of precious drinking water was saved and the average household water consumption reduced by 27 per cent. The Waterwise Public Housing Project is an initiative under the WA Government's Waterwise Perth Action Plan. The plan sets the direction for transitioning Perth to a waterwise city, and creating cool, liveable, green and sustainable communities in which people want to live, work and spend their time.
Comments attributed to Water Minister Dave Kelly:
"Those in hardship or at social disadvantage are often among the most vulnerable members of our community.
"The Waterwise Public Housing Project supports the McGowan Government's commitment that no public housing tenant across WA should pay higher water bills because of inefficient fixtures and fittings in their public housing properties.
"The project is equally about equipping tenants with the knowledge and skills to make waterwise changes to their daily lives and in doing so, reducing water use and lowering bills.
"Fundamental to this is the waterwise training provided to housing services officers which is a shining example how agencies can work collaboratively to drive meaningful change.
"Significant water and cost savings have already been achieved through the program's pilot phase, and now a further 10,000 additional tenants and families across WA stand to benefit."
Comments attributed to Housing Minister John Carey:
"This is a fantastic initiative that will not only save a precious resource, it will help public housing tenants save on their water bills.
"The Department of Communities is working closely with the Water Corporation and the Department of Water and Environmental Regulation to improve water efficiency in public housing.
"Changes have already been made to construction and maintenance specifications to upgrade dwellings with waterwise fixtures and fittings as part of ongoing maintenance.
"Any dwelling now constructed by the Department of Communities will exceed the minimum standards for water efficiency as set out in the National Construction Code.
"New housing constructed or upgraded through the State Government's Social Housing Economic Recovery Package will provide tenants with homes that use less water than standard housing, meaning lower water bills for tenants, in addition to the environmental benefits.
"The Department of Communities is also undertaking water audits on its properties and educating tenants in reducing water consumption.
"The result is better water knowledge, and lower living costs."
Minister's office - 6552 6100