20 Sep 2021

|

Media Release
Quinns Mindarie Surf Life Saving Club gets waterwise makeover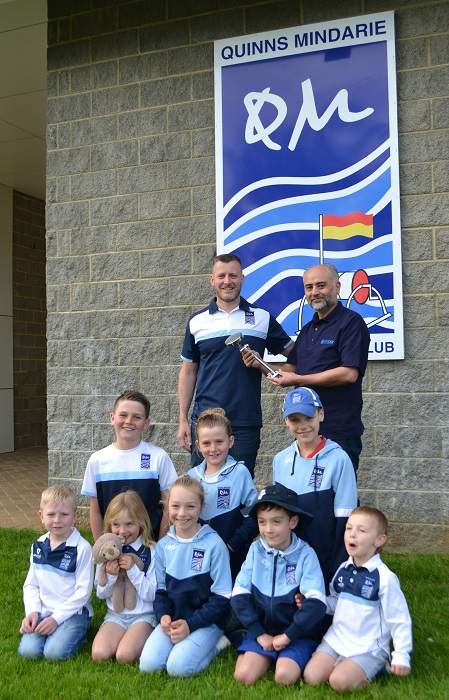 Quinns Mindarie Surf Life Saving Club can lay claim to being among Perth's most waterwise sporting clubs after receiving a $4,800 Water Corporation waterwise retrofit.
The new water-efficient tapware, showerheads, and toilet cisterns are expected to save the club more than 450,000 litres of water each year through reduced water use. That's equivalent to nearly 12 backyard swimming pools of water.
Water Corporation has also inspected and made improvements to the club's water outlets to reduce water loss in the event of a burst.
The retrofit was delivered following a recent project to upgrade 1.4km of wastewater pipeline along Rochester Drive, Fairport Vista, and Rosslare Promenade in Mindarie.
Water Corporation General Manager Customer and Community Karen Willis said the one-off retrofit was a way of giving back to the community following the works.
"The Mindarie community has been very understanding and patient as we've upgraded critical wastewater infrastructure in the area," Ms Willis said.
"Funding a waterwise retrofit at Quinns Mindarie Surf Life Saving Club not only saves the club money off their water bills, it also saves our most precious resource, water.
"As climate change continues to impact the amount of rainfall we receive, there's never been a more important time to rethink our water use and install water-efficient products, where possible.
"We thank the Mindarie community for their cooperation during the works and look forward to seeing the benefits this retrofit will bring."
Quinns Mindarie Surf Life Saving Club President Nathaniel Lee said he was pleased the waterwise retrofit had been completed in time for the busy summer season.
"With more than 700 members regularly using the changeroom facilities, our water consumption is fairly high throughout the year, particularly during surf life-saving season," Mr Lee said.
"As a not-for-profit sporting club, anything we can do to help save money – while using less water in the process – is a great thing.
"We are grateful to Water Corporation for this waterwise gesture."
To find out more about installing waterwise products in your home or business, please visit www.watercorporation.com.au/Waterwise/Waterwise-products.
Media contact:
Water Corporation media team (24/7)
P: (08) 9420 2555
E: media@watercorporation.com.au