04 Feb 2022

|

Media Release
Get back to nature at revamped Churchman Brook dam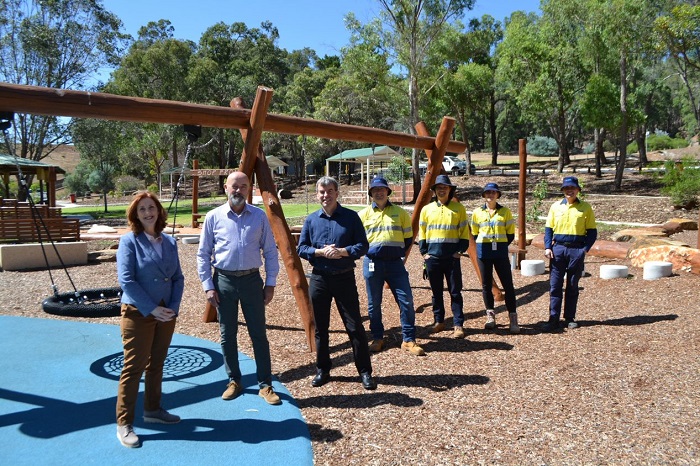 New nature playground and upgraded amenities at popular Perth dam

Part of $2.5 million upgrade program to enhance visitor experience at Water Corporation metro dams

Serpentine Main, Canning and Mundaring dams to follow this year
A new nature playground at the Water Corporation's Churchman Brook dam is the centrepiece of upgraded visitor facilities at the popular Perth dam, unveiled today by Water Minister Dave Kelly.
Part of a $2.5 million McGowan Government investment in the recreational areas at four metro dams, the upgrades also include a grass picnic area and new toilet and barbecue facilities to enhance the visitor experience.
The scenic spot, in the City of Armadale, attracts thousands of people every year taking advantage of the beautiful scenery, walking trails and picnic areas.
The work by local Western Australian contractors Nature Play Solutions and JPJ Constructions also improved accessibility, including inclusive access play equipment.
The visitor facilities at Serpentine Main, Canning and Mundaring dams will be upgraded later this year and the Aboriginal interpretive signage showcasing the cultural significance and lore of the sites will be installed next year.
Visitor information on Water Corporation dams is available at its website: https://www.watercorporation.com.au/About-us/Visiting-our-dams
Comments attributed to Water Minister Dave Kelly:
"Nothing beats getting back to nature in the Perth Hills, so I am delighted that the McGowan Government is making a $2.5 million investment in the visitor facilities at some of Water Corporation's most popular dams.
"Churchman Brook is a beautiful spot for a day out and the kids will absolutely love the new nature playground.
"It's also an opportunity to educate them how our water sources and the role of dams have changed. Dams are now increasingly used to store desalinated seawater rather than rainfall run-off, which has declined dramatically due to climate change.
"The local water story will form part of the Aboriginal interpretive signage to be installed next year, reflecting the dam sites' connections to Aboriginal people and the environment."
Comments attributed to Darling Range MLA Hugh Jones:
"Since opening in 1929, Churchman Brook dam has held a special charm for the local community and visitors alike due to its many scenic picnic spots.
"The new playground and facilities are fantastic, and I commend Water Corporation for improving the visitor experience and making the area more accessible for all.
"I'd encourage people to visit Churchman Brook and explore the beautiful Perth Hills."
Minister's office - 6552 6100