29 Jul 2022

|

Media Release
Waterwise Greening Scheme reaches new heights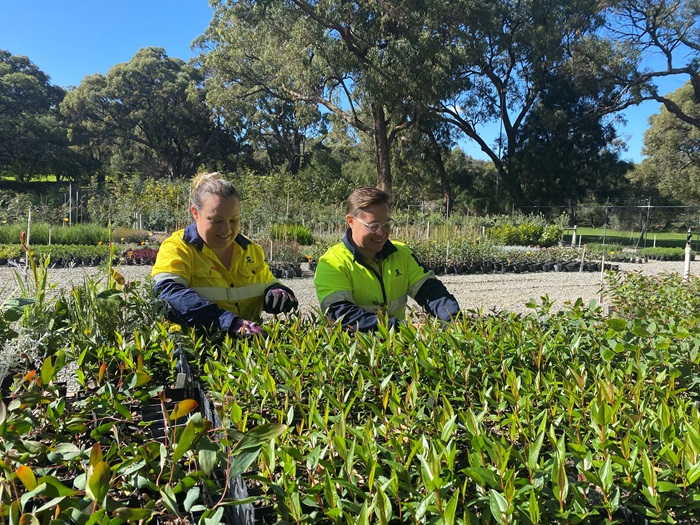 City of Stirling staff tend to their nursery of waterwise plants co-funded under the Waterwise Greening Scheme
1,700 trees and 43,000 native plants co-funded under Waterwise Greening Scheme

Promotes cooler, greener and more waterwise communities in the face of climate change

More than $360,000 provided to waterwise councils since 2019
Ahead of National Tree Day on Sunday, Water Minister Dave Kelly has commended local governments for their commitment to greener, waterwise communities after a record number of street trees were planted in the latest round of Water Corporation's Waterwise Greening Scheme.

The scheme, which reopens to eligible councils in August, provides up to $10,000 in co-funding for waterwise greening initiatives including waterwise plant giveaways, waterwise verge transformations, waterwise workshops and waterwise street tree planting.

Last year, 18 councils shared in over $160,000 to provide 43,000 waterwise plants and a record 1,700 street trees.

Since being expanded in 2019, the scheme has provided more than $360,000 for 126,000 waterwise plants, 2,850 street trees, 624 verge transformations and 20 waterwise demonstration gardens.

Due to the ongoing impacts of climate change, Western Australia continues to experience higher daily average temperatures and declining rainfall.

Around 40 per cent of urban local governments have seen a significant loss of tree canopy cover over the last 10 years, yet the cooling effect from street trees and vegetation cover can reduce urban temperatures by up to five degrees.

The Waterwise Greening Scheme directly supports local governments and communities to create greener, more waterwise streetscapes.

For more information on the Waterwise Greening Scheme, including criteria and how to apply, visit watercorporation.com.au/greeningscheme

Comments attributed to Water Minister Dave Kelly:

"Water is undoubtedly our most precious resource, but we can all still enjoy green, healthy gardens and suburbs by choosing native trees and plants.

"The Waterwise Greening Scheme is a fantastic initiative which not only helps councils vegetate public areas but also makes waterwise plants and street trees available to the community.

"It's really encouraging to see the scheme growing each year, highlighted by a record 1,700 street trees co-funded during the latest round. We're also seeing more and more people installing waterwise verges at home which is one way to create climate-resilient suburbs in the face of climate change.

"Through the great work being done by Water Corporation and our waterwise councils, we're showing that it is possible to save water while also ensuring communities remain green and liveable."