Please note: All Perth dam picnic areas will be closed until further notice due to extreme weather and fire risk. Please avoid these areas and observe all signage. Visit the Emergency WA website for more info.

Just a short car ride from Geographe Bay, Harvey Dam has a range of world-class recreational facilities including an amphitheatre for concerts and cultural events, walkways and picnic areas with gazebos and BBQs.
Dam information
Capacity – 56 billion litres
Catchment area – 126km2
Surface area at full storage – 553 hectares
Wall height – 45m
Visitor information
Facilities
An amphitheatre for concerts and cultural events
A footbridge, boardwalk and walk trails
A fenced playground
Grassed picnic areas with gazebos and BBQs
Viewing platforms
An upstream boat ramp
Toilets
Directions
From Perth, take the Kwinana Freeway southbound
Continue south onto the Forrest Highway for 8km until you meet Greenlands Road
Turn left on Greenlands Road and travel for 6kms until you reach a roundabout
At the roundabout, take the second exit on to South Western Highway
Head south for another 48km until you reach Harvey
Turn left onto Weir Road and the dam is 2.5km along on your left
What to do
Pack a picnic; make use of the landscaped recreational areas, free electric barbecues and shady gazebos to enjoy a relaxed afternoon in the gorgeous surrounds.
If fishing is more your thing, why not bring a rod and cast off in our reservoir? We've worked with Fisheries WA and Recfish West to re-establish trout and marron in the reservoir, allowing licensed anglers and marroners the chance to try their luck during the designated seasons.
Our fenced playground areas will give the kids space to play, or one of the walk trails around the dam give visitors the chance to stretch their legs. If you're feeling energetic, you can choose the spillway path which leads up to stairs that climb the 45 metre embankment to a scenic lookout spot.
Operations
For operational enquiries please contact 13 13 75.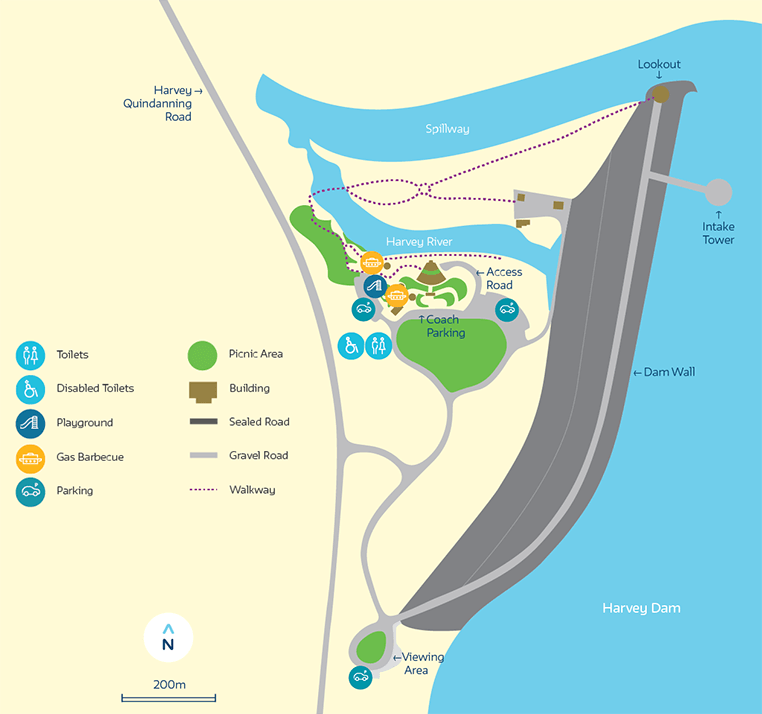 Planning a visit?
When visiting a dam, please follow these simple rules to ensure you and your family have a fun, memorable, and safe experience.
Obey directional and informational signs

Keep to pathways, roads and recreational areas

Be aware of uneven ground and walking hazards

Children must be within view of a responsible adult at all times

Dogs are not permitted on site

Swimming, canoeing, fishing and marroning is not permitted

Do not climb walls, fences, bridges, pipework or other operational infrastructure

Do not trespass into signposted operational and 'No Entry' areas

Never attempt to operate taps, valves or controls

Do not deface safety and security signage

Keep emergency and operational access gates and roadways clear
People and domestic animals naturally carry pathogens that can be transferred into streams and reservoirs when they have contact with the water. The pathogens can be difficult to remove, putting our drinking water at risk and potentially making people sick. There are also restrictions on other activities such as off-road driving, camping, lighting fires and littering. Failure to comply with these rules may result in an infringement or prosecution.

All Perth's metropolitan and regional dams are proclaimed Public Drinking Water Source Areas and are protected under the Metropolitan Water Supply Sewerage and Drainage Act 1909, the Country Areas Water Supply Act 1947 and the Water Services Act 2012. Access is not permitted on the reservoirs or in the streams flowing into it. Failure to comply may result in prosecution.

Please report unmarked safety hazards, suspicious behaviour or pollution to 13 13 75.

For additional information about any of our dams, please call us on 13 13 85.