Please note: Picnic and recreational areas at Perth and Peel dams managed by Water Corporation have re-opened, in line with current advice.

Both natural beauty and history can be appreciated at Serpentine Main Dam, which is situated amidst classic scenery in the Darling Scarp. It is the larger of the two dams located on the Serpentine River.

Dam information
Capacity – 137.7 billion litres
Catchment area – 664km2
Reservoir length – 16km
Wall height (above lowest foundation) – 55m
Visitor information
The dam is part of the Serpentine National Park.
Facilities
Picnic areas with free gas barbecues and drinking water fountains
Playground
Restaurant
Toilets (including accessible)
On-site parking
Opening hours
Serpentine Dam is open daily but times are seasonal, for opening times and more information please refer to the Parks and Wildlife service website or Perth Hills Armadale Visitor Centre on (08) 9394 5410.
Directions
To Serpentine Dam
From Perth, take the Kwinana Freeway, or Tonkin or Albany Highway to Armadale
Follow the South Western Highway for 18km to Jarrahdale Road
Turn left and continue for 5km
Turn right onto Kingsbury Drive and continue to Serpentine Main Dam
To Serpentine Falls
Drive approximately another 7km past the turnoff to Jarrahdale along South Western Highway
Follow the signs along Falls Road
What to do
Have a family lunch in the large picnic area with an adjoining playground. You are welcome to use the free gas barbecues located in the grassed lower picnic area downstream of the dam wall.
If you prefer a relaxed indoor setting, try the restaurant near the main car park for a casual meal.
Enjoy a nature walk on the marked trails and visit the scenic lookouts. If you like bird-watching, search for kookaburras, black cockatoos, parrots, magpies, and wrens.
Take a trip to the stunning Serpentine Falls for a picnic lunch with the waterfall as your backdrop. July to November is wildflower season, so visit during these months to see beautiful native flowers.
Operations
For operational enquiries please contact 13 13 75.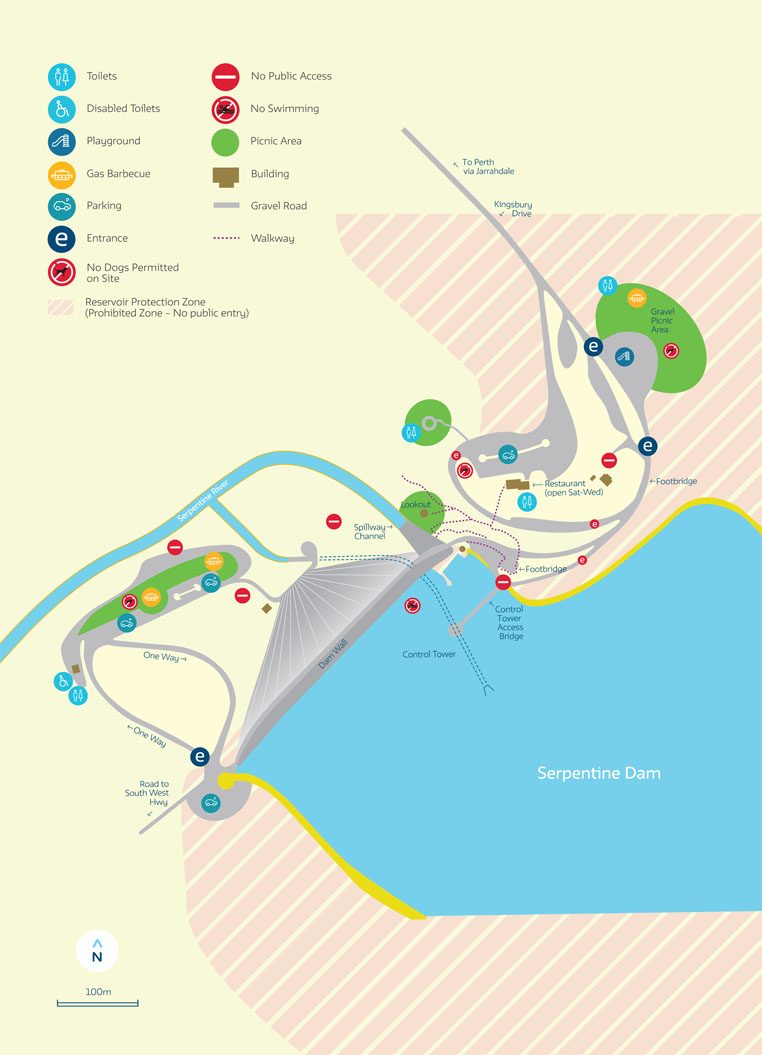 Planning a visit?
When visiting a dam, please follow these simple rules to ensure you and your family have a fun, memorable, and safe experience.
Obey directional and informational signs

Keep to pathways, roads and recreational areas

Be aware of uneven ground and walking hazards

Children must be within view of a responsible adult at all times

Dogs are not permitted on site

Swimming, canoeing, fishing and marroning is not permitted

Do not climb walls, fences, bridges, pipework or other operational infrastructure

Do not trespass into signposted operational and 'No Entry' areas

Never attempt to operate taps, valves or controls

Do not deface safety and security signage

Keep emergency and operational access gates and roadways clear
People and domestic animals naturally carry pathogens that can be transferred into streams and reservoirs when they have contact with the water. The pathogens can be difficult to remove, putting our drinking water at risk and potentially making people sick. There are also restrictions on other activities such as off-road driving, camping, lighting fires and littering. Failure to comply with these rules may result in an infringement or prosecution.

All Perth's metropolitan and regional dams are proclaimed Public Drinking Water Source Areas and are protected under the Metropolitan Water Supply Sewerage and Drainage Act 1909, the Country Areas Water Supply Act 1947 and the Water Services Act 2012. Access is not permitted on the reservoirs or in the streams flowing into it. Failure to comply may result in prosecution.

Please report unmarked safety hazards, suspicious behaviour or pollution to 13 13 75.

For additional information about any of our dams, please call us on 13 13 85.