Please note: All Perth dam picnic areas will be closed until further notice due to extreme weather and fire risk. Please avoid these areas and observe all signage. Visit the Emergency WA website for more info.

Wellington Dam is located in Wellington National Park, around 195km from Perth and a 30 minute drive from Bunbury and Collie. The standout attraction is a giant mural painted across the dam surface - the biggest dam mural in the world.

Constructed in 1933, Wellington Dam is the second largest surface water catchment in WA. The water isn't suitable for drinking water. It's mostly used for irrigation and is managed by Harvey Water.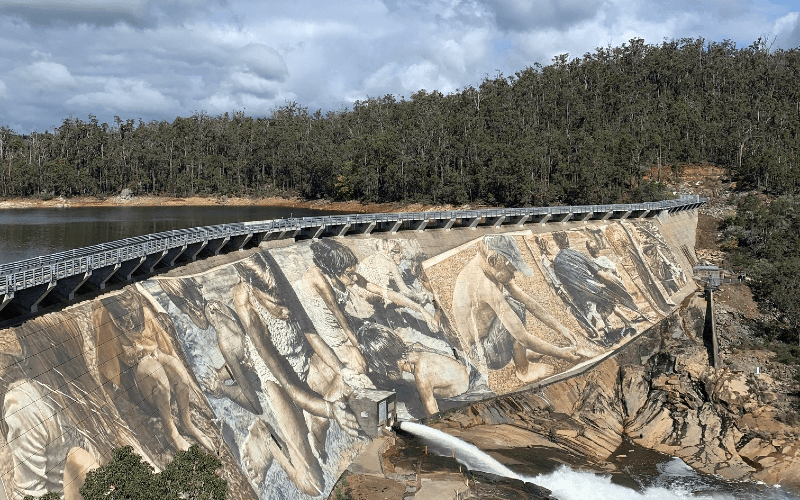 Dam information
Capacity - 185 billion litres
Catchment area - 2,509km2
Reservoir length - 240m wide and 19m high
Visitor information
Facilities
Meals, snacks, drinks and mountain bike hire available at the kiosk at the dam
Picnic areas with free gas barbecues and drinking water
Toilets (including accessible)
On-site parking
Viewing platform
The existing bridge at the foot of Wellington Dam is currently closed to traffic and pedestrians. Traffic management is in place to advise of detours. Visit Wellington Dam Bridge upgrade for more information.
Opening hours
Wellington Dam is open every day of the week.

For more information please contact Collie Visitor Centre on (08) 97342051 or visit the Explore Parks WA website.
Directions
From Perth, take Kwinana Highway which leads into Forest Highway
Travel south for 158km, then turn off onto Raymond Road, head east for 6km and turn left at the South West Highway.
Turn right onto the Coalfields Highway, then travel 36km and turn right onto Wellington Dam Road in Worsley.
What to do
Enjoy a picnic lunch while admiring the 8,000 square meter mural painted by internationally renowned artist, Guido Van Helten. We recommend the amphitheatre, it's a stunning spot to enjoy a BBQ lunch. Be sure to take a selfie!

Follow a picturesque walking trail around the dam and through the surrounding jarrah forest, stopping at the viewing platform to view the dam wall and Collie River Gorge.

Feeling energetic? Try one of the many mountain bike trails available or take a dip in the refreshing water at the dam. Enjoy a scenic canoeing or kayaking adventure. Water skiing is permitted on a small section of Wellington Dam, at Potters Gorge. Several walking trails of different lengths are available for bush walkers.

Fishing is a great way to relax and during marron season you can try your luck catching a marron. Licences for fishing and marroning are required and can be purchased at Fisheries Department offices or online.

Camping is available at Honeymoon Pool and Potters Gorge and must be booked online.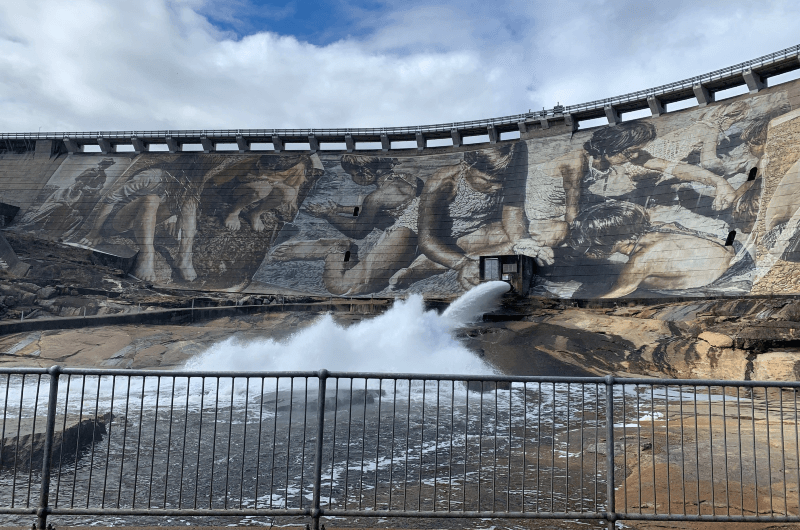 Operations
For operational enquiries please contact 13 13 75.
Planning a visit?
When visiting a dam, please follow these simple rules to ensure you and your family have a fun, memorable, and safe experience.
Obey directional and informational signs

Keep to pathways, roads and recreational areas

Be aware of uneven ground and walking hazards

Children must be within view of a responsible adult at all times

Dogs are not permitted on site

Swimming, canoeing, fishing and marroning is not permitted

Do not climb walls, fences, bridges, pipework or other operational infrastructure

Do not trespass into signposted operational and 'No Entry' areas

Never attempt to operate taps, valves or controls

Do not deface safety and security signage

Keep emergency and operational access gates and roadways clear
People and domestic animals naturally carry pathogens that can be transferred into streams and reservoirs when they have contact with the water. The pathogens can be difficult to remove, putting our drinking water at risk and potentially making people sick. There are also restrictions on other activities such as off-road driving, camping, lighting fires and littering. Failure to comply with these rules may result in an infringement or prosecution.

All Perth's metropolitan and regional dams are proclaimed Public Drinking Water Source Areas and are protected under the Metropolitan Water Supply Sewerage and Drainage Act 1909, the Country Areas Water Supply Act 1947 and the Water Services Act 2012. Access is not permitted on the reservoirs or in the streams flowing into it. Failure to comply may result in prosecution.

Please report unmarked safety hazards, suspicious behaviour or pollution to 13 13 75.

For additional information about any of our dams, please call us on 13 13 85.