What you need to register
A recent copy of a bill from us – this has your Electronic Reference Number (ERN) in the top right hand corner on the back.
Your ABN if you're a business.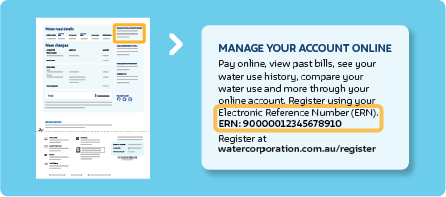 Register for an account today to:
Compare water use to others like you
Complete your household profile to compare your water use to similar households.
Manage direct debit with no fees
Save time and take the hassle out of paying your water bill by signing up for direct debit.
View your billing and water use history
Download your water use history and see your past bills.