Before Water Corporation relocating your meter you will need to pay for a licensed plumber to relocate all the internal pipework. All plumbing work carried out in WA must be completed by a licensed plumber.
Your plumber will work with you to determine a suitable location for your meter and will relocate your internal pipework to the new location.
Water Corporation will not be able to relocate your water meter if your internal pipework has not been relocated.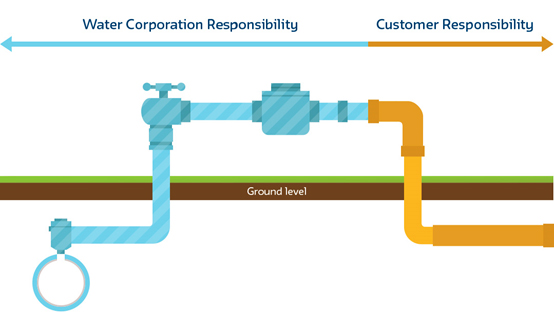 This diagram shows which parts of the meter assembly Water Corporation is responsible for, any work required on the customer's side of the meter must be done by a licenced plumber.
Things to consider
Fees and charges
To ensure Water Corporation is able to relocate your water meter in the location you have selected we have created a list to help you consider the fees, clearances and requirements that may apply to your property.
Please consider fees and charges when choosing your new meter location.
Moving your meter less than 500mm to the left or right of the current location incurs a lower fee than moving your meter further away.
If the new position is below ground level a Water Corporation approved box is required. Extra fees for the box apply.
Clearance requirements for the new meter location
Please ensure the following clearance requirements are met:
At least 300mm clearance all the way around the new water meter position.
At least 1200mm clearance above the new water meter position.
At least 2m clearance from a transformer box.
The new water meter position is not more than 1.5m from the front boundary line.
The plumbers bend is at least 100-150mm above the finished ground level (for above ground water meters).
The plumbers bend is at least 200mm below the top level of the meter box lid (for below ground water meters.)
The new location is free of any hazards or obstructions, bushes, trees, retaining walls and pipework is not to be encased with brick paving or concrete.
The new position pipework has 1m of copper from the plumbers bend free from any valves or branching connections.
The below diagram shows how a 20mm water meter and service line should be positioned in relation to the front boundary line and the finished ground level. Please note the clearances required. The new location will need to have these minimum clearances when relocating your water meter.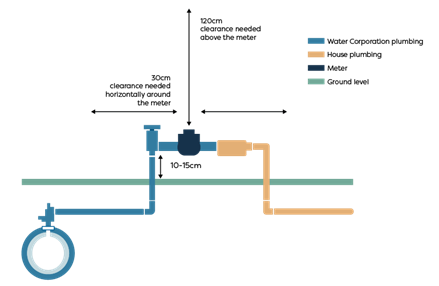 The clearances shown are required to facilitate meter reading and/or replacement when required. This is a requirement under the Water Services Regulations 2013.
Additional requirements
A WAS lock is fitted if the new water meter position is behind a located gate/fence to allow 24 hours access.
If the new position is to be outside the property boundary (within the verge), written permission must first be obtained from your local shire/council and provided to Water Corporation with your application. The water meter must be lowered into a meter box at your expense.
If the new location is required to be underground you need a meter box to protect the water meter. Please view further information on meter box installation for conditions and dimensions.
Due to electrical risks we are prevented from installing your water meter within 500 mm from the centre of a power dome. Please refer to our fact sheet about meter relocations near power domes.
If the property is opposite a T junction relocation options may be limited. Please contact building.services@watercorporation.com.au (email subject: Relocate a water meter) for further assistance.
Before you apply
Please ensure you have:
Understood the fees and charges
Understood the clearance requirements and additional requirements
Noted the distance your meter is to be raised or lowered above the current ground level as this information must be supplied with your application.
Ensured that your water meter will not be installed within 500 mm from the centre of a power dome
If the new location is outside the property boundary you have obtained permission from the local council or shire first and have this ready to attach to your application.
How to apply
Log in to BuilderNet using a guest account and select 'Lodge a water service application'.
We will email you an invoice outlining the relevant fees. You will need to pay these fees before a work order can be generated.
How long will it take?
The relocation requested will not proceed until you advise us that a licensed plumber has completed the internal plumbing. You will need to call 13 13 95 when you are ready for the work to start. We will endeavour to have the requested work completed within 10 working days.
More information
For more information about water meter relocations and the conditions associated to the installation of meter boxes, you can contact us via one of the following options:
Email: building.services@watercorporation.com.au
Phone: 13 13 95
Meter box installation
Meter box installation is available to customers who, after considering all other alternatives need a meter box to protect their water meter. It only applies to services up to, and including 50mm, and when the backflow risk is deemed to be low or medium.
The meter box consists of a trafficable cast iron lid with a plastic underbox and need to meet our safety requirements. All meter boxes are to be installed by Water Corporation or our approved installers. Subject to your agreement to our conditions, Water Corporation or our approved installers will install the box.
Your responsibility
The property owner is required to arrange a licenced plumber to relocate the internal pipe work at their own expense prior to Water Corporation attending the property to relocate or alter the level of the meter.